Featured
4 Eagerly Awaited Romantic K-Dramas To Watch On Netflix In February 2022
By
|
Celebrate love month as Netflix rolls out an array of eagerly anticipated Korean romance dramas next month!
K-Dramas on Netflix in February 2022 surely get you on board with a slew of heart-fluttering moments. So be sure to keep tabs on it!
February 2022 Korean Dramas: "Twenty Five Twenty One", "Forecasting Love And Weather", "Grid", "Thirty, Nine", "Business Proposal" & More
Twenty Five Twenty One | February 12 |
In a time when dreams seem out of reach, a teen fencer pursues big ambitions and meets a hardworking young man who seeks to rebuild his life.
Accordingly, the series is a collaboration between writer Kwon Do-eun and director Jung Ji Hyun. They are recognized for a realistic and emotional screenplay as well as detailed and polished orchestration. Their combined works include Search WWW, The King Eternal Monarch and You Are My Spring.
Netflix Confirms "Twenty Five Twenty One" Launch Date In February
---
Forecasting Love and Weather | February 12 |
Inside a national weather service, love proves just as difficult to predict as rain or shine for a diligent forecaster and her free-spirited co-worker.
Just like its workplace setting, the drama aims to depict the life and love stories of the people like the steamy tropical night and unpredictable local heavy rain.
Netflix Slates "Forecasting Love and Weather" Top-Billed By Park Min Young and Song Kang
Thirty, Nine | February 16 |
JTBC's new midweek drama Thirty, Nine preps to explore real human romance drama. Correspondingly, it aims to delve into a deep story of friendship, love, and life among three friends who are about to turn forty.
Son Ye Jin (as Cha Mi-jo), Jeon Mi Do (Jung Chan-young), and Kim Ji Hyun (Jang Joo-hee) are friends of the same age who have seized the most precious days of their lives. Ready to prove that "life begins at 40", they are set to present encouraging perspectives in Thirty, Nine.
"Thirty, Nine" Pitches Character Stills Featuring Son Ye Jin, Jeon Mi Do and Kim Ji Hyun
---
Business Proposal | February TBA | 
Based on a webtoon, Business Proposal follows the story of an office employee who goes on a blind date with her company's CEO while pretending to be her rich best friend.
Helmed by director Park Sun Ho of Wok of Love and Suspicious Partner, and penned by writer Han Seol Hee, the series will be produced by Cross Pictures, which is well known to have produced the drama Sound of the Heart.
"Business Proposal" Teases With Cast Synergy At Revealed Script-Reading Session Photos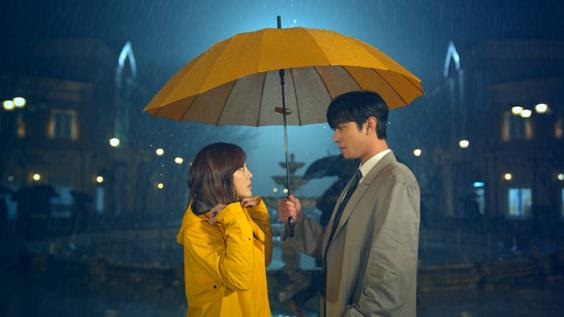 ---
BONUS ROMANCE TREAT
Korean film Love and Leashes also launches on February 11. In this preference-respecting movie, love never hurt so good for two co-workers who enter a contractual relationship as partners in consensual play, pleasure and pain.  
Depicting the exhilarating, sweet-flavored romance between Ji-hoo (Lee Jun Young), who has a perfect but unusual sexual taste, and Ji-woo (Seohyun). He is a capable member of the public relations team who discovers Ji-woo's secret.
Seohyun & Lee Jun Young Orient A Breathtaking and Maddening Office Romance In "Love and Leashes"
---
PR Source: Netflix
How does this story make you feel?