Featured
G-Dragon Sneaks Up On A Startled IU; Perform "Palette" Together
By
|
G-Dragon brought an unforgettable concert to the local fans.
On June 10, G-Dragon kicked off his world tour, titled ACT III, M.O.T.T.E, in Seoul, South Korea.
At the event, the heartthrob performed several of his past hits, namely "One Of A Kind",  "Breathe", "MichiGo", and "Heartbreaker".
This was also the first time that the rapper promoted his latest album, titled Kwon Ji Yong, which was released on June 8. He satisfied his fans with impressive and powerful renditions.
Despite the hectic schedule, IU, who recently worked with the BIGBANG member on her track "Palette", made special arrangement to attend her fellow artist's concert.
The two brought the live performance of their sweet collaborative song, much to the fans' delight. This also marked the first time that the track was performed live on the stage by the two singers.
During the rendition, IU wore an elegant blue dress, captivating the eyes of the audiences. As usual, the idol showed off her emotive voice along with high powerful notes.
Standing side by side, G-Dragon was in his dashing red velvet suit,  matching to IU. The two showed their lovely musical chemistry through occasion intimate eye contact.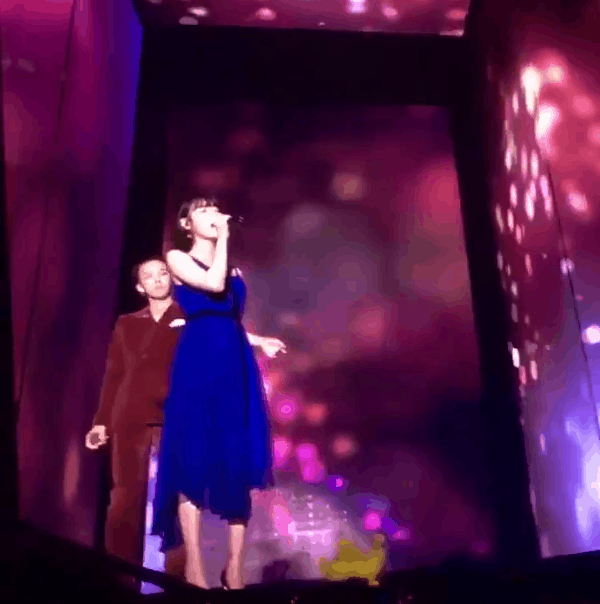 During the concert, a fan captured a special highlight of that G-Dragon-and-IU moment. The rapper secretly sneaked up on stage when IU was concentrating on her singing.
Upon hearing mischievous G-Dragon's voice, IU turned around, only to be startled by him.
The fan cam has since been receiving much attention from the fans, as they gave compliments to G-Dragon's cute act during the performance.
How does this story make you feel?