JTBC | TV Chosun
Featured
January 2021 K-Drama Releases: "She Would Never Know" & "Love (ft. Marriage and Divorce)"
By
|
Two series are making its premiere this month representing the roster of January 2021 Korean dramas.
Joining the 2020 tail-end dramas are two romance stories. Currently, there are 14 Korean series, excluding daily/weekend family dramas, that might engross you.
Currently Airing 2021 Korean Dramas
MONDAY-TUESDAY
Royal Secret Agent (KBS 2TV)
Awaken (tvN)
Live On (jTBC) *Tuesday only
The Penthouse (SBS)
WEDNESDAY-THURSDAY
Cheat on Me If You Can (KBS 2TV)
Run On (JTBC)
True Beauty (tvN)
FRIDAY-SATURDAY
Delayed Justice (SBS)
Hush (JTBC)
SATURDAY-SUNDAY
Mr. Queen (tvN)
The Uncanny Counter (OCN)
Hera: The Goddess of Revenge (TV Chosun)
SPECIAL DRAMAS
Please Don't Date Him – MBC every1 *Tuesday only
A Love So Beautiful – kakao TV/Netflix | Monday, Thursday & Sat only
Lovestruck in the City – kakao TV/Netflix | Tuesday and Friday only
*Note that daily/weekly family dramas are not included in Hellokpop's coverage.
---
Here are the two series slated to premiere this month.
She Would Never Know
Jan 18 | JTBC
Streaming Site: TBA
Chronicling the world of a marketing team, She Would Never Know feature stories of a cosmetic company product promoters.
Sharp and with a strong personality, Won Jin Ah (Melting Me Softly) plays Yoon Song Ah, a third-year marketer. Unlike her gentle appearance, her unfazed attitude pushes her firm leadership. She also only wears pink lipstick.
Loved for his role in Extraordinary You, Kim Rowoon transforms to the role of rookie marketer Chae Hyeon-seung. His handsome visual induces love-at-first-sight plus his personality is as endearing as lovable.
Aiming for "the hoobae who will be loved by female sunbaes", Rowoon's synergy to Won Jin Ah is expected to delight drama fans.
---
Love (ft. Marriage and Divorce)
January 23 | TV CHOSUN
Streaming Site: Netflix
Everything comes unraveling for three successful women who work on a radio show as twists, turns and troubles plague their seemingly happy marriages.
The series stars Sung Hoon, Lee Tae Gon, Park Joo Mi and Lee Ga Ryeong in the main leads. Exploring facets of married couples in their 30's, 40's and 50's, it also features their misfortunes and predicaments as they seek true love.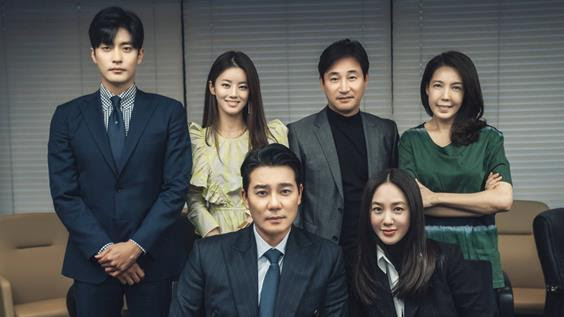 ---
Photos: Netflix | JTBC
How does this story make you feel?