Cube Entertainment
Featured
K-Pop Comeback Spotlight: BTOB 4U Shares Love And Hope With First Mini-Album "INSIDE"
By
|
BTOB 4U releases new music, telling us to show love and affection with each other despite the hard times.
BTOB 4U gives Melody their first mini-album INSIDE, bringing forth lots of hidden new charms. This latest release sees the 4-member unit group exploring diverse music genres such as Mumbai dance, R&B, punk rock, and modern rock ballad.
As the group is known for having songs that can touch everyone's hearts with their realistic and emotion-filled lyrics, this unit debut was immediately one of the most anticipated ones.
What really makes INSIDE more anticipatory and special was the active participation of all members in the lyrics writing and producing for all tracks in the album. No doubt, the group lives with their modifier to "trust and listen to BTOB" as they are deeply responsible for bringing new music that all can listen to every single day.
INSIDE Comeback Timeline
Excitement surrounded Melody fans as Cube Entertainment announced on October 29 that BTOB will be having a new unit. Showing off new enchanting charms, BTOB 4U consists of Seo Eunkwang, Lee Minhyuk, Lee Changsub, and Peniel. The unit name was selected after receiving opinions and suggestions from the group's fandom, Melody. With a heartfelt meaning of uniting the four members, BTOB 4U sparked an explosive response and anticipation from the public.
Thereafter, a scheduler was released on November 2 for Melody fans to mark the important dates tracing to their highly awaited unit debut album.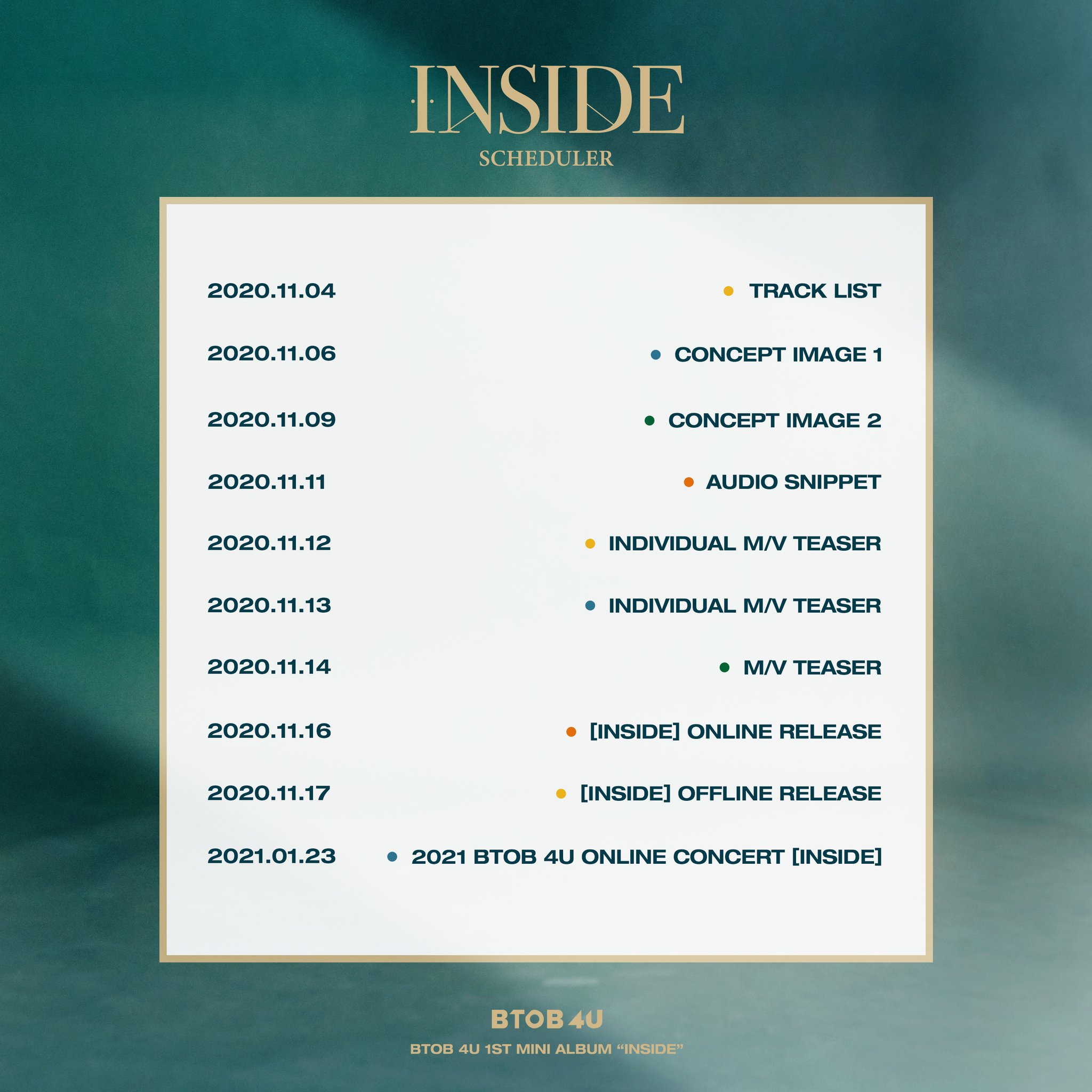 On November 4, BTOB 4U revealed the list of the songs on the album. The tracklist revealed Im Hyunsik's self-composed song which he wrote before enlisting in the military.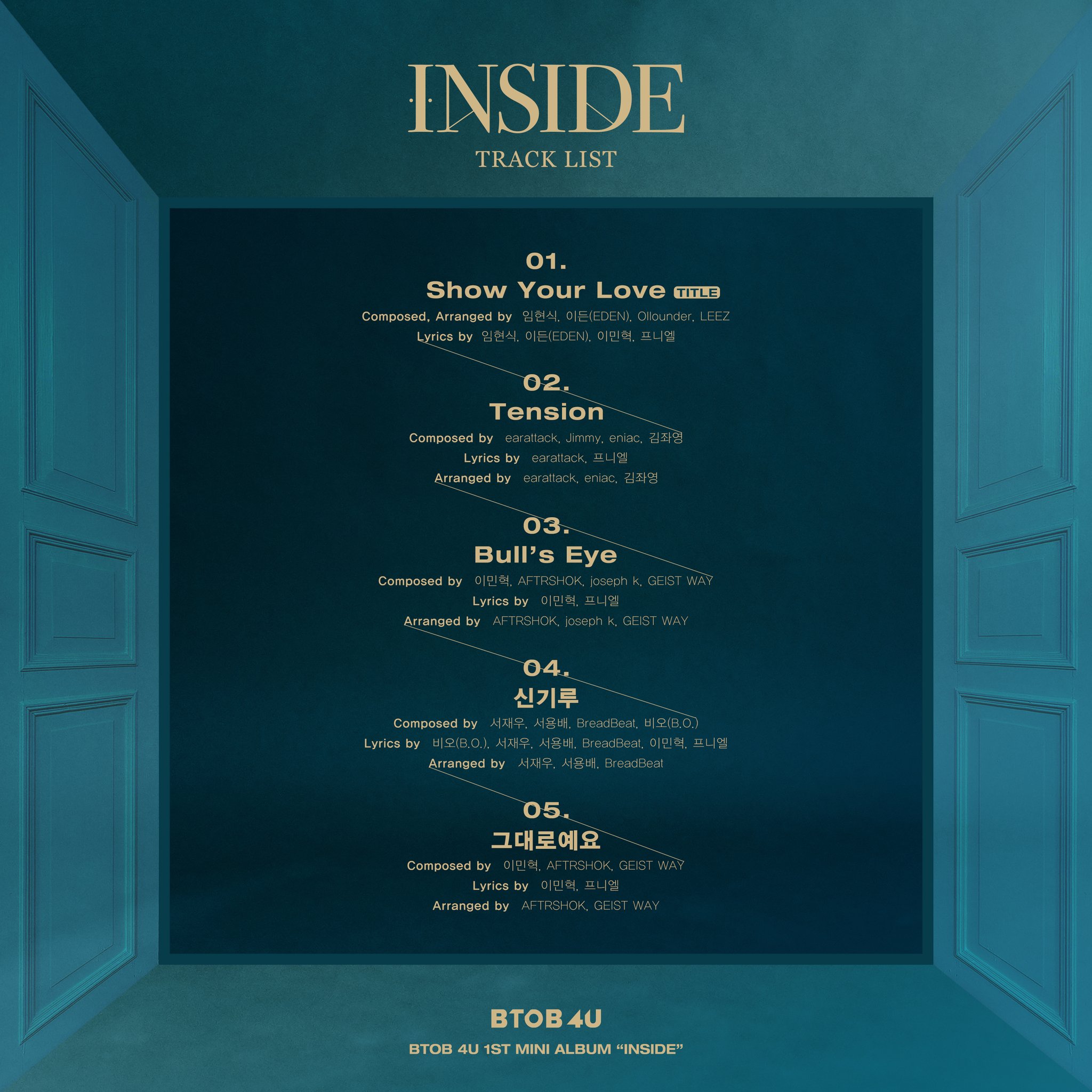 Members' names are also placed in the entire song credit, with Peniel writing all his rap lyrics for all the songs. Minhyuk also self-wrote all his rap parts as well as composed and wrote the songs "Bull's Eye", which contains BTOB's own cheerfulness, and "그대로예요", which emphasizes each of the member's vocal and rhythmic strengths.
Concept Photos and MV Teasers
Moreover, BTOB 4U strikingly stunned fans with the first set of concept photos. Each member enraptured hearts with their luxurious and undeniable visuals. They all looked strikingly handsome in black jackets and inside shirts as if telling the world that they ain't here for fun.
On November 9, the second set of concept photos was unraveled. As they took another step closer to the much-awaited unit debut, each member posed amusingly as they look funky and dashing in colorful shirts and jackets. They looked rather fascinating and teasingly attractive while being flexible with their witty facial expressions.
Followed by a rhythmical audio snippet, BTOB 4U raised expectations with short bits of highlights from the first mini-album INSIDE.
The fun hasn't ended yet, as individual music video teasers followed on November 12 and 13. Showcasing each member's charms and acting ability, they all looked chic, witty, and humorous.
A group music video teaser also followed on November 14, with the members looking far from their regular images as they showed magnificently in each shot.
---
INSIDE Album Impressions
Consisting of six masterpieces, BTOB 4U proves why they are indeed born to beat the music industry's stereotypes. As a powerful all-around group, exploring different genres from Mumbai dance, R&B, punk rock, and modern rock ballad, BTOB 4U takes forth fans and regular listeners to a breathtaking musical journey. Definitely, every single track in the album succeeded to showcase the group's individual charms and teamwork.
"Show Your Love"
Aside from having 7 singers and 7 rappers, BTOB is also known as the "healing idol."
With their songs that bring comfort and warm hugs, they also convey hope to people who are struggling with their everyday lives.
Particularly, BTOB's genius composer Im Hyunsik describes his self-composed song "Show Your Love" as a song that extends the message to let love reign despite being in the most difficult times. Hyunsik says that there is nothing greater and powerful than love. Hence, being able to conquer all challenges as long as love remains.
The song clearly delivered Hyunsik's sincere hope that people will love each other. As Eunkwang sings "there is nothing stronger than love," it fits perfectly with the current situation. The song aims to lift everyone's spirits up as BTOB 4U offers themselves as a star that will give light to the darkness.
"Tension"
Changsub starting the song with his unique tone feels refreshing as he plays with the notes. The song's sexy R&B sound digs the combination of an emotional piano melody accompanied by a funky guitar.
The chorus brings forth real tension, especially with their alluring voices. Peniel's rap sounded pretty cool as well as the sound goes sparser during his part.
"Bull's Eye"
This song really has huge Minhyuk feels! The beat is absolutely interesting. Surely, you can't help but groove along with the tune, while being amazed by Peniel and Minhyuk's rap verses. "Bull's Eye" really represented the members' cheerfulness and the energy of this dance song is beyond splendid!
"신기루" (Mirage)
"Mirage" feels like a song telling you of an illusion of happiness when in love. The song is an up-tempo ballad, actively providing an extreme emotional whiplash with its sentimental lyrics.
"그대로예요"
Also composed and written by Minhyuk, the last song in the INSIDE album is "Alone."
It starts off with an emotional verse with a beautiful acoustic guitar followed by an absolutely mesmerizing harmonization. Personally, this song will be pinned on our music playlist.
---
"Show Your Love" MV Afterthoughts
BTOB members are also known for being good actors. In fact, Eunkwang and Changsub already had experiences in the musical scene. It was fascinating how each of the members showcased their own individual potential as actors. Honestly, the music video perhaps can pass as a 3-minute trailer for a dramatic movie!
The music video features four different charms. Each of the members has a different role and character, making fans focus on each storyline. Representing the different forms of love that exist, Minhyuk's character resembles Romeo in the famous Shakespeare masterpiece "Romeo and Juliet."
On the other hand, Changsub's storyline shows love in a toxic and harmful relationship. Peniel portrayed the importance of loving yourself while Eunkwang represents pursuing what you love beyond norms and stereotypes.
Each of the scenes fit in with the song's theme, making it more emotional to watch.
At the end of the video, fans were somewhat bewildered as the four members reunited through a simple card. They walked together inside an old warehouse, making puzzled expressions over a luminous and golden light.
With this confusion at the ending, fans hope that the other three members currently in the military will also reunite with BTOB 4U as soon as possible.
---
Photos/Videos: Cube Entertainment