Featured
Korean Dramas To Watch On Viu In October 2020: "Tale of the Nine Tailed", "Kairos", "Dare You Cheat On Me" & More
By
|
K-Drama fans, marked your calendars well as anticipated Korean dramas have slated its streaming schedules on Viu this October!
Viu, a leading pan-regional OTT video service from PCCW media group, presents its exciting Korean content for October that features seven highly anticipated drama series guaranteed to keep Viu-ers entertained throughout the entire month.
This month's releases encompass seven new Korean drama series including fantasy mystery Tale of the Nine Tailed, comedy drama Dare You Cheat On Me, action thriller Kairos and corporate dramas Delayed Justice and Penthouse, all of which are exclusive to Viu for 60 days.
This month's Korean content slate proves to be one of the most exciting yet, so keep your eyes peeled for these series' release dates!
---
Tale of the Nine Tailed | October 8
Tale of Nine Tailed tells the story of Ji Ah (Jo Bo Ah), the sole survivor and witness of a car accident when she was nine years old, in which she lost her parents and their bodies were never recovered. Twenty years later, Ji Ah becomes a TV producer of a documentary specializing in tracking down mysterious and unsolved crimes.
When she covers a case about a bus accident, she recognizes a man whom she saw at the scene of her own car accident 20 years ago and goes looking for him. When she finally meets him, the encounter leads to an unexpected and mystical twist of fate.
The star-studded cast features the highly prolific and popular actor Lee Dong Wook, rising actress Jo Bo Ah, who bagged multiple awards for her performance in Goodbye to Goodbye, and the Boys Over Flowers star Kim Bum who will be appearing in his first project since returning from the military.
---
18 Again | October 22
18 Again traverses the story of a man who wrinkled time and returned to his high school years, just before getting a divorce. The new series will be helmed by Ha Byung Hoon of Go Back Couple fame. The well-loved KBS2 TV series has garnered positive raves with its heartfelt narrative. It is also based on 2009 fantasy film, 17 Again.
Yoon Sang Hyun suits up as 37 year old Hong Dae Young, a regular middle-aged man who once had a glorious youth being a basketball genius. Yoon's character who lives a regretful life with divorce concerns and losing his job gets a chance to be in his 18 year old self again.
With a soul of 37 year old, he changes his life and takes a new identity. Taking the role of young Hong Dae Young is dashing actor Lee Do Hyun
Kim Ha Neul plays the role of Jung Da Jung, a mother of 18-year-old twins and aspiring announcer. In the released photos, Kim channels the mood of a passionate announcer. Her goal, albeit hard, owing to her role as a mother to twins, aims to sympathize with women who struggles with their career because of marriage and pregnancy.
---
Delayed Justice | October 24 *exclusive for 60 days
Delayed Justice, tells the story of Park Tae Yong, a public defender who took an unconventional route to become a lawyer. He is passionate about upholding justice and is full of empathy, even for offenders who might not deserve it.
The series follows his story as he climbs the career ladder to make a name for himself in the judicial sphere.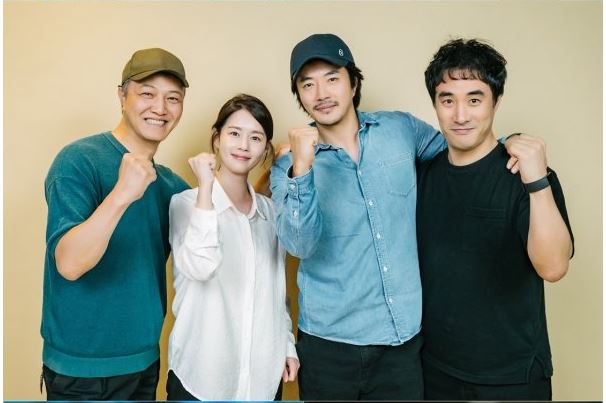 ---
More Than Friends | October 26
Tracing and fulfilling a decade-long unrealized love is the driving point of jTBC drama, More Than Friends. It touches on the emotions of a woman harboring long-standing love to her friend; and the friend who realized late that he feels the same.
Friendship is also an expected element in the series headlined by Ong Seong Wu, Shin Ye Eun, and Kim Dong Jun.
---
Kairos | October 27
Kairos is another anticipated fantasy thriller which follows Kim Seo Jin (Shin Sung Rok), an ambitious man fixated on success. He climbs the corporate ladder to become the youngest executive at his company, and his life appears to be perfect with a successful career and a
beautiful family.
However, his world comes crashing down when his young daughter is kidnapped. Desperate to recover everything he has lost, he begins to communicate with Han Ae Ri (Lee Se Young), a woman from his past. The series will debut first on Viu on October 13, and is produced by Park Seung Woo who co-directed the popular
---
Penthouse | October 27 *exclusive for 60 days
Penthouse tells the story of an ambitious woman who is determined to do whatever it takes to enter high society and own a luxury penthouse in the Gangnam District. Will she lose herself to greed through this process?
Striking a formidable lineup, Penthouse is headlined by respected and talented actresses: Lee Ji Ah, Kim So Yeon and Eugene. The series delves into stories of women in high society with cunning motivations.
---
Dare You Cheat On Me | October 28
The series follows Kang Yeo Joo (Cho Yeo Jeong) who is a best-selling crime novelist. Because of her job, she is constantly thinking about gruesome murder methods to write about. Her husband Han Woo-Sung (Go Joon) is a divorce lawyer. He is a doting husband but one day writes a memo to his wife that reads "If I cheat, I die."
Cho Yeo Jeong is most recognized for her leading role in the award-winning film Parasite, while Go Joon is best known for his breakout role in The Fiery Priest. He starred in his first lead role in Oh My Baby earlier this year.
---
PR Source: Viu SG
Photos: tvN | SBS | MBC | KBS2