iQiyi
Featured
Meet The Actors Giving Life To The Creative Team Of "Monthly Magazine Home" Plus Their Dramas Not To Be Skipped
By
|
Decorating the mid-week schedule of K-Dramaland with ample life and love lessons, Monthly Magazine Home is a story dedicated to career people.
Specifically, it sheds light on the different meanings of "having a home".
Fate brings polar opposites together and a bunch of charismatic characters in iQiyi's latest wacky yet poignant romcom Monthly Magazine Home.
Top-billed by Jung So Min and Kim Ji Suk, they reunite years after the drama special Came to Me and Became a Star. The office romantic comedy has been delighting viewers owing to its undeniable cast's talent and synergy.
Jung So Min as Na Young-won
Monthly Magazine Home introduces the audience to Na Young-Won (played by Jung So Min), a magazine editor for 10 years but suddenly finds herself jobless after her employer closed down the publication.
Jobless and with her current rented home being included in a redevelopment plan, she's forced to move out by the real estate developer even though she hasn't yet found a new place to transfer.
She eventually landed a new job as an editor in Monthly Magazine Home with the help of a friend, only to find out that the person who kicked her out of her house is her new employer.
The actress last worked on dramas Soul Mechanic, The Smile Has Left Your Eyes, Because This Is My First Life and The Sound of Your Heart. She also made special appearances in My Roommate is a Gumiho and What's Wrong With Secretary Kim.
---
Kim Ji Suk as Yoo Ja-sung
Donning the role of Yoo Ja-Sung, the CEO of the magazine and a real estate billionaire developer who kicked Na Young-won out of her rented home is Kim Ji Suk.
Being poor since birth and growing up an orphan, Ja-sung, a self-made man in the real estate industry. He has never wasted time, money and emotions to achieve his goals of becoming the billionaire he envisioned himself to be.
Though his employees keep their distance because of his strict rules when it comes to time and expenses. To Ja-Sung, he practically views a house as a real estate asset and investment that generates higher returns or income.
His notable works include My Unfamiliar Family, Top Star Yoo Baek and When The Camellia Blooms.
---
Jung Gun Joo as Shin Gyeom
Shin Gyeom played by Jung Gun Joo is a young and talented photographer, who's also a camping enthusiast and believes in the mantra YOLO (You Only Live Once).
He used to live a carefree life being the son of a chaebol until he meets Na Young-won who became his convenience store buddy trying to save money by buying items that are on a 1+1 shelf.
To Shin Gyeom, a home is where he stays at the moment – whether be it in his studio or a camping tent.
The rising actor made remarkable impressions in the dramas Oh My Baby and Extraordinary You.
---
Kim Won Hae as Choi Go
The seasoned character actor takes the role of Choi Go, the editor-in-chief of Monthly Magazine Home and is a devoted family man.
Having lived in their current 30-year old apartment, he has refused to relocate for years, much to the dismay of his wife since he's still hoping for the building's reconstruction that would increase the value of his property/apartment.
Portraying a few fathers and key character roles, he appeared most recently in dramas Youth of May, Start-Up, Hush and Awaken.
---
Chae Jung An as Yeo Ui-joo
Yeo Ui-Joo is also an editor in Monthly Magazine Home and is Young-won's friend who recommended her to the editor-in-chief.
She lives a luxurious life with a monthly rent of 1 million within a vibrant, prime location.
While almost everyone in the magazine strives to own a home, UI-Joo chooses to rent and firmly believes that real estate values are bound to fall and that investing in the future is not a guarantee for happiness.
The actress is best known for her roles in Suits, Coffee Prince, Legal High and Man to Man.
---
Ahn Chang Hwan as Nam Sang-soon
Nam Sang-soon is one of the editors at Monthly Magazine Home who still lives with his parents and is living on a subscription to save money to be able to buy a house so he can marry his longtime girlfriend.
The actor has starred in Vincenzo, Backstreet Rookie, Prison Playbook.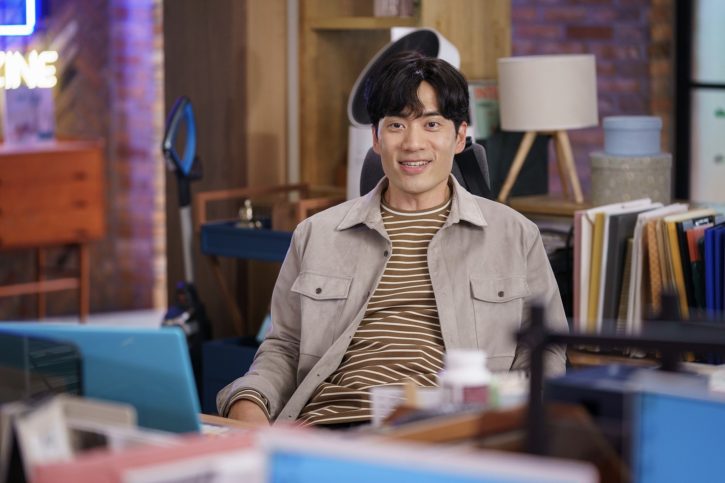 Monthly Magazine Home streams every Wednesday and Thursday at 8:00 PM on iQiyi & iQ.com
Download the iQiyi app or log in to www.iQ.com  for more amazing Asian shows.
Check iQiyi PH social media pages for more updates – Facebook , IG,   Twitter, YouTube, Tiktok
---
PR Source: iQiyi