Naver x Dispatch
Featured
#HBDtoHYUNGWON: MONSTA X's Hyungwon And His Words That Comfort Every MONBEBE
By
|
From countless words of wisdom to random talks about life, MONBEBE can always count on Nobody Else but the face genius, Chae Hyungwon!
As an idol who gets slumped in busy schedules and activities, MONSTA X's Hyungwon is someone who still finds ways to cheer up MONBEBE and help them achieve their goals by sharing life experiences and realistic advice.
Hyungwon does anything to brighten MONBEBE's days. From his seaweed dance, the hilarious background reactions, his never thert of it, the leg stretches in the hallway, Dodo, his love for coffee, his legendary expressive face, his voice when he calls Jooheon jagiya, and his comforting smile.
He might look intimidating to some at first glance but in reality, he is a warm person who exceeds millions of joy and happiness. So, to celebrate our very own beautiful-hearted man's birthday, here are some of the many times Hyungwon gave the greatest life advice, proving that he sincerely cares about MONBEBE.
---
"Happiness will find you"
During a fan signing event in 2016, a fan asked Hyungwon a question that everyone might have thought of at least once in their lifetime. The fan had a hard time during those days so she asked what can she do when she gets no motivation in life.
There will be days when we just want to stay in bed for hours, thinking of ways how we can get back to being joyful and happy. So, MONSTA X's resident manner teacher had the most comforting advice that an idol could ever say.
"You don't have to have motivation to be happy or sad. Naturally, there are times when you are happy and sad. So if you let time pass, happiness will find you. The funny thing about humans is that just a little thing can make us happy and can give us a goal in life. So I think happiness will come your way so don't worry too much."
---
"Let them go"
In life, there will come a day where we should decide whether to keep things the same way or cut off unnecessary connections.
When a person asks you what to do if you're getting a lot of stress from different kinds of things, especially with people, we sometimes come up with several ways to cope up with it. But Hyungwon has a rather simple piece of advice when a fan asked how she can overcome stress – let them go.
In my experience, if I receive stress from a person, I let them go. Even though I treat relationships seriously, I end that relationship. I tend to try to do it in a positive way and try to not get angry or put up a fight when ending it. So, the next time I see them, I won't get stressed by them. If you wish or expect something, you could eventually be disappointed. But, when you let them go, then that's it. But only end it when you really think you have to.
---
"It's okay to go slow"
This word of wisdom from the beautiful prince is perfect for the current situation. As lots of us are worrying about what the future may hold, some are also pressuring themselves to be productive every single day. But Hyungwon wants everyone to prioritize their well-being.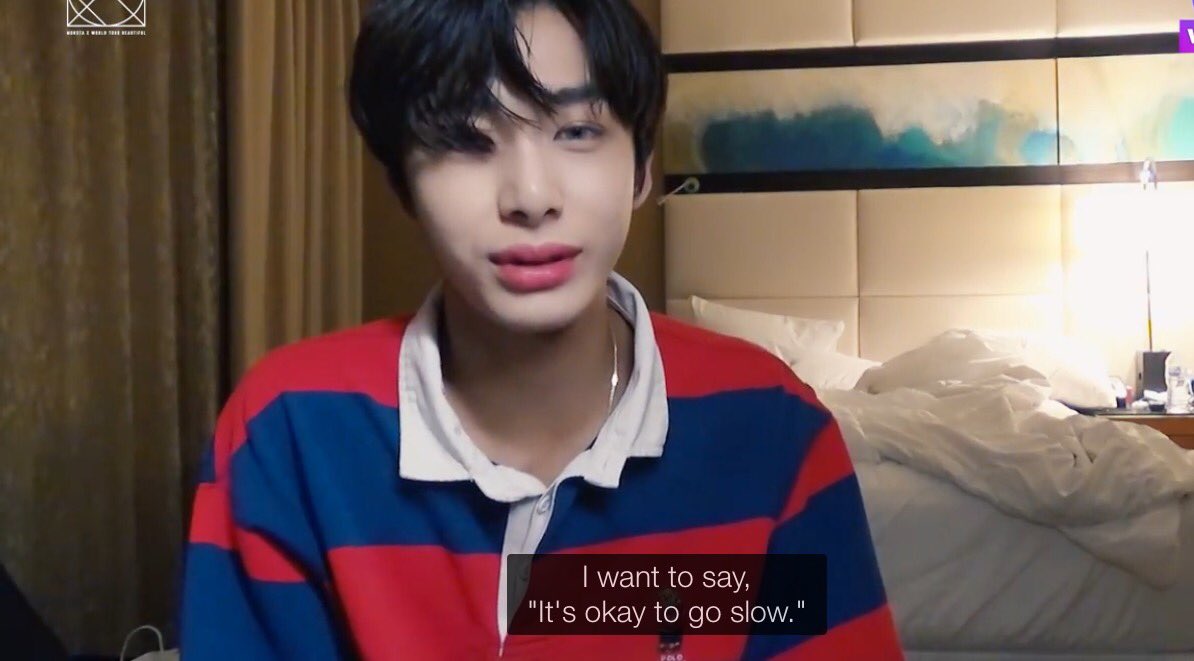 During a VLive broadcast, Hyungwon advised fans to comfort themselves and that it is necessary to think about themselves a bit more. With all the unfortunate happenings and mess in the world, we all wanted an assurance that everything will be fine eventually. And Hyungwon has wonderful words that will make you realize to do what makes you happy and makes you feel alive. Everyone has their own responsibilities in life but the faster you move, the heavier pressure you'll get. We must realize that it's okay to do things one step at a time—slowly but surely.
I want to say that it's okay to go slow. Comfort yourself. Think about yourself a bit more. Don't feel too much burden as you live your life.
---
"Don't expect anything"
During his special guesting at Minhyuk's Naver NOW audio show, the best friends took time to reminisce their memories from trainee days. They received messages from fans and also gave advice to them about real life.
Friendship is one of the most important relationships that a human can ever have. We actually value friendship more than anything else. And there might be some unexpected circumstances where misunderstandings between friends can occur, but Hyungwon has the perfect tip to offer.
Well, it's true that in a human relationship, the bigger the expectation, the bigger the disappointment you'll have. In my case, I don't expect anything from my friends. It's not that I don't expect anything because I don't like it, but I just don't think they should do anything for me. For example, "I did far like this for them, but why didn't they do anything or the same for me?". This may be a basic difference of consideration. I don't have to think about it like that in the first place, just focus on why you're close with each other. And I think I can be a good friend if they don't do anything hurtful.
---
"There's nothing wrong with not having a dream"
During one MONSTA X showcase, Hyungwon received a rather complicated question that he, himself, thought twice to respond to. The fan expressed her worry through a letter about her plans in life.
As the quarantine brought by the pandemic had terribly affected lots of households and businesses, stable education and looking for a job have also been a concern. For Hyungwon, he humbly responded in a mature way, comforting the MONBEBE who has been worrying about her dreams.
"If I, who is lacking, dare to say something, it's that there's nothing wrong with not having a dream. To the sender of this story who is still chasing their dream, I think the day when you find your dream will come someday. Fighting!"
🐢많은 분들이 꿈에 대한 고민을 많이 하고 계실 텐데
감히 부족한 제가 한말씀 드리자면
꿈이 없는 게 잘못된 게 아니라
그 꿈을 찾고 있는 이 사연을 보내주신 분이
언젠가는 그 꿈을 찾다 보면 꿈을 마주하는 날이 오지 않을까라는 생각을 합니다
힘내세요! pic.twitter.com/0soWKSgVpj

— 북 (@im__pine) September 8, 2019
---
Don't need Nobody Else but Chae Hyungwon
Indeed, beautiful words come out of beautiful people. And Hyungwon is a perfect example of it. With these out of the endless list of things that make MONBEBE admire him more and more, Chae Hyungwon is absolutely and exactly the kind of man that any parents would fall in love with and just plainly approve of, with no hesitation. The way he cares for MONBEBE and endlessly expressing his love for them never once failed to make everyone's heart go warm and kind.
His determination also exceeds genuineness. Having auditioned plenty of times, Hyungwon's strong will power to reach his dreams became very admirable. The hard work he puts in everything he does is another one of the many reasons why MONBEBE gets inspired by him. He is a great role model who always chases every opportunity to send encouragement and sincerely wishes that everyone will be happy.
Hyungwon is a fantastic person, continuously showing his many talents in several areas may it be singing, dancing, composing, DJ-ing, acting, or modeling. He is an intelligent and wise man who always cares for the people around him and strives hard to listen to their stories like an older brother whom you can lean on during the most difficult times.
If you are a MONBEBE, you might remember one episode from MONSTA X's reality show, MONSTA X-ray, where the psychologist pointed out that Hyungwon's greatest strength is being diligent. Hyungwon always manages to pull things through. He has his own effective ways of looking after other people.
And compared to common assumptions about him, Hyungwon is actually the very opposite of being lazy. He was never lazy. He is always particular in practicing his singing and dancing, and he had also countless times mentioned that he is working hard in producing music for MONBEBE. And yes, "Nobody Else" is a result of his perseverance.
골든디스크 본 방 사 수 해줘요 몬베베 😍🌹 #형원 #GDA_MONSTAX pic.twitter.com/W5VOgyLxnr

— 몬스타엑스_MONSTA X (@OfficialMonstaX) January 9, 2021
The Creator was really keen on creating the masterpiece named Chae Hyungwon. Not just with a perfectly crafted physique and face, Hyungwon is living with the most gorgeous and beautiful heart that radiates endless positivity and joy.
Happiest birthday Chae Hyungwon!
---
Images: Starship Entertainment
How does this story make you feel?