Starship Entertainment | Photo by Kihyun
Internet
MONSTA X's Shownu Dominates Global Twitter Trends On His Birthday
By
|
Thank you for being the best leader that MONSTA X ever had!
It was indeed a lovely gift for MONSTA X's Shownu as global MONBEBE trends the leader on his birthday.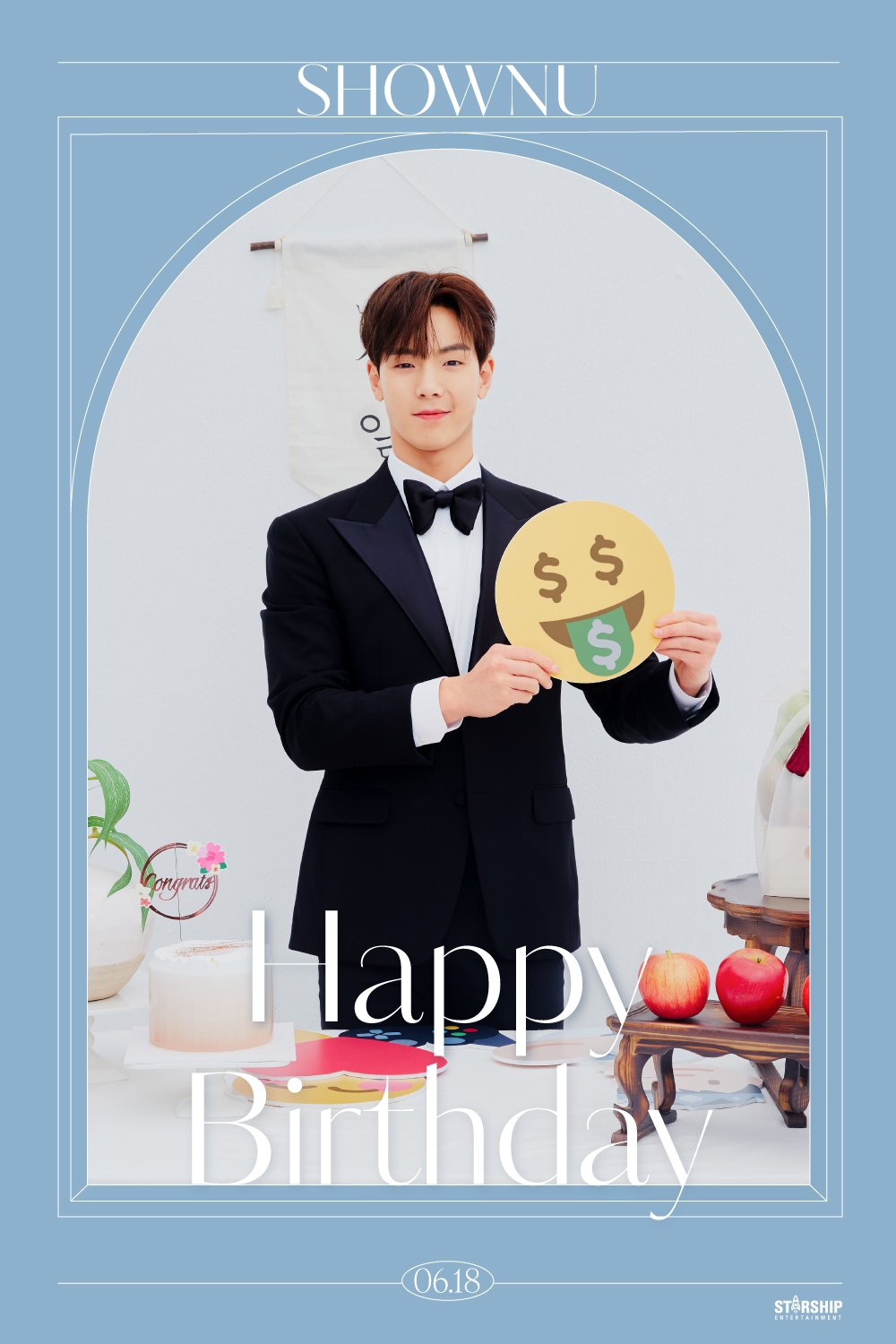 On June 18, the eternal love of global MONBEBE for Shownu was displayed as the hashtag #HBDtoSHOWNU topped the global Twitter trends. MONBEBE had also been all over Twitter as soon as the clock strikes 12MN to send greetings to the adorable Nunu bear.
Consecutively, a congratulatory image and GIF were shared through MONSTA X's official Twitter account along with the hashtag "#찬란하고_애틋한_셔누ayo (#Brilliantand_affectionate_Shownuayo), referencing Shownu's Instagram handle. The GIF presented Shownu in a black suit and bowtie, displaying his endless cute charms. Also, Shownu did not forget to send his gratitude to fans with a live broadcast through the VLive App.
🎉
210618 #몬스타엑스 #셔누
❤️ HAPPY BIRTHDAY #MONSTAX #SHOWNU ❤️#MONSTA_X#HBDtoSHOWNU #찬란하고_애틋한_셔누ayo pic.twitter.com/Qz6XaIRvh4

— 몬스타엑스_MONSTA X (@OfficialMonstaX) June 17, 2021
Shownu not only received warm messages from fans but also from the members of MONSTA X. The members forwarded their messages to their trustworthy captain, thanking him for all the efforts he did as the group's leader.
Notably, Shownu has continuously shown off his dependable presence as MONSTA X's leader.
Shownu's kindness was also exceptional. He is the kind of person who takes great care of his members silently, like a tsundere. Also, as the other members had mentioned, he is a perfect reliable eldest brother that brings MONSTA X together.
In particular, Shownu had shown solid teamwork as he sends his support to his members by visiting them in their waiting rooms for music shows. Even though he wasn't actively promoting with them due to his eye condition, it did not stop him from fulfilling his duty as a devoted leader. Shownu was also active in social media to update MONBEBE about his condition, proving that even though he isn't on stage, his heart is always with them.
Additionally, Shownu had boasted his honey-sweet vocals as he sang "I'll Be There," the OST for the tvN drama Tale of the Nine-Tailed. The powerful performer also did a wonderful duet with Minhyuk for "Have A Good Night," a song for the webtoon She's My Type.
잠깐 함께하지 못했을 뿐인데 유독 많이 보고싶었습니다.
항상 행복하자는 말은 안할게
지금처럼 늙어서도 웃으면서 바보같은 장난도 치고 그러고 놀자
생일 축하해
사랑해 형 #IM #찬란하고_애틋한_셔누ayo pic.twitter.com/kUFZJQYR3X

— 몬스타엑스_MONSTA X (@OfficialMonstaX) June 18, 2021
Shownu was also loved by the public due to his unexpected charm with his easy-going yet wild appearance. He has actively shared his witty and intelligent self through various broadcasts and entertainment programs. Proudly showing off his flexibility as an artist and entertainer, he had appeared in a series of programs such as SBS' Law of the Jungle, OnStyle's Lipstick Prince, tvN's Hit the Stage, Mnet's Cap-Teen.
Meanwhile, MONSTA X had successfully completed its two-week of promotions with the 9th mini-album One Of A Kind. Headlined by the title track "GAMBLER," which was composed by the main rapper Joohoney, the powerhouse group will continue to meet fans through different content from various platforms.
---
PR and Image Source: Starship Entertainment