Netflix
K-Drama
"Forecasting Love and Weather" Features Career and Romance Between Park Min Young and Song Kang
By
|
Netflix releases Forecasting Love and Weather poster featuring the bright synergy of its lead pairing.
Along with that, the main trailer was also unveiled introducing the career challenges faced by the people in charge of monitoring the weather conditions in South Korea.
In the video, the lives of employees at the Korea Meteorological Administration are highlighted. Given their works involve the safety and life of the citizens, the demand to perform well is of paramount importance.
In fact, general forecaster Jin Ha-kyung (Park Min Young) described Korea as a country with the most difficult conditions for meteorologists to observe the weather around the world. She also reminds special report officer Lee Si-woo to always stick to the facts.
Consequently, the boss of KMA is on a constant high level of stress to KMA staff who work diligently, debate fiercely, and analyze numerous data to get an accurate weather forecast.
Amid the demanding workload, an exciting current of love slowly begins. Lee Si-woo (Song Kang) starts chasing a connection with Ha-kyung.
Between two completely different people and unpredictable variables, can romance settle in?
Nevertheless, Ha-kyung's pretty smile which indicates a sweet response to Si-woo's cute wink raises excitement in the hearts of fans waiting for the series.
Both beaming in the key poster, Song Kang and Park Min Young gaze at each other seemingly captured candidly while talking about work. Further enticing expectant viewers, the series preps a cheerful romance drama of people at the Korea Meteorological Administration who break, fall and get back on their feet every day.
Forecasting Love and Weather premieres globally on Netflix beginning February 12.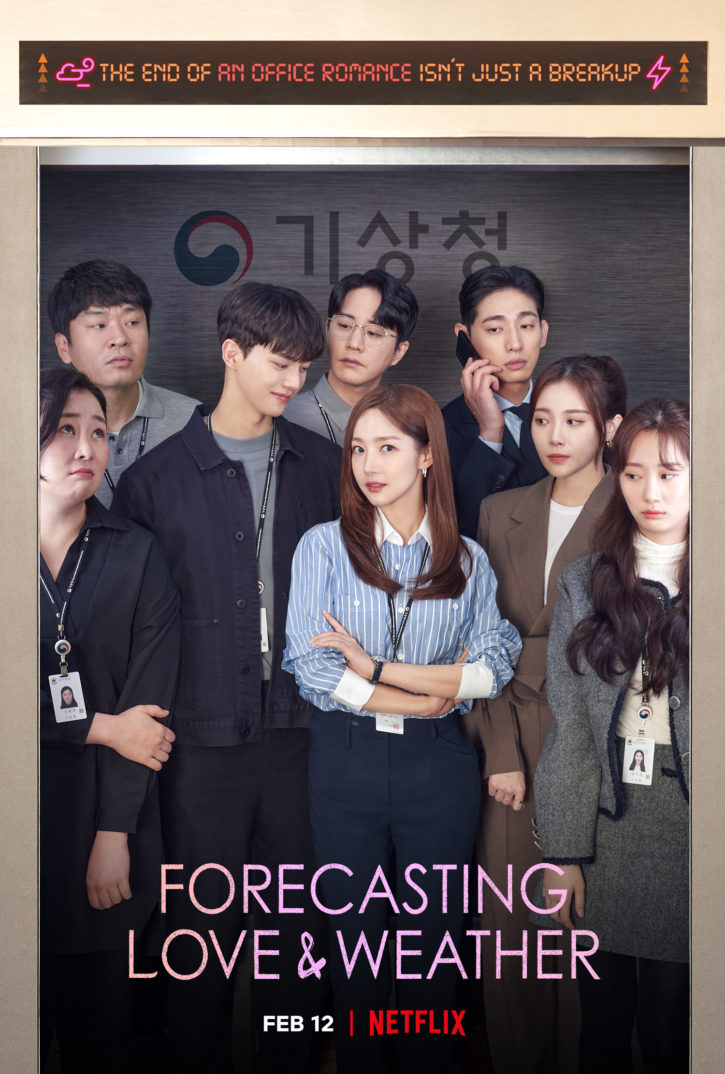 ---
PR Source/Photos: Netflix
About Netflix
Netflix is the world's leading streaming entertainment service with 214 million paid memberships in over 190 countries enjoying TV series, documentaries, feature films and mobile games across a wide variety of genres and languages. Members can watch as much as they want, anytime, anywhere, on any Internet-connected screen. Members can play, pause and resume watching, all without commercials or commitments.
How does this story make you feel?