iQiyi
K-Drama
"My Roommate Is a Gumiho" Kicks Off Premiere With Exclusive Press Conference
By
|
iQiyi's first Korean romantic comedy series My Roommate Is a Gumiho is finally here!
Starting May 26 viewers can enjoy simulcast streaming with Korea every Wednesday and Thursday at 21:40 (SGT)!
In the long-awaited iQiyi's first K-drama series My Roommate Is a Gumiho, a "Gumiho" (Nine-tailed Fox) Shin Woo-yeo (played by Jang Ki Yong) has been discreetly living in the human world for centuries. Waiting for the time to become human permanently, his fox bead is swallowed by Lee Dam (played by Lee Hye Ri). Forced to live together for a solution, they set many rules for cohabitation to live their lives.
A new romance eventually blossoms between the human and non-human. However, Gye Sun-woo (played by Bae In Hyuk), a handsome and wealthy man, has a crush on Lee Dam after pretending to like her in the first place, and Shin Woo-yeo feels anxious for the first time after more than 900 years!
Another romantic and unconventional relationship happens on the side between Gumiho Yang Hye-sun (played by Kang Han Na) – who has been living as a human being for five years – and human Do Jae-jin (played by Kim Do Wan).
---
Director's Considerations In Adapting Popular Webtoon 'Living Together'
Director Nam Sung-Woo and the five leading actors participated in the press event in Seoul yesterday morning. When asked if there was any pressure to adapt a popular webtoon, Nam responded that appearance and personality were major considerations during the casting process.
For example, for the 999-year-old Shin Woo-yeo, the character needed to look restrained but extremely handsome, and Nam believed Jang fit really well. He also heard that the original webtoon creator envisioned the leading female character to be Lee Hyeri. Therefore, after reading the script, he was further convinced that Lee was the ideal choice.
Kang Han-na has a strong front but is silly sometimes, and Kim Do Wan is pure and adorable. Both actors were cast as they embodied similar traits as their characters. However, Nam said that Bae In-hyuk initially looked too nice to him, compared to the character, but the actor performed well overall.
---
Jumping On The Gumiho Bandwagon
There have been quite a few K-drama series about "Gumiho" (Nine-tailed Fox). When asked about how this series was different, Lee answered that the story is a natural romance between a Gumiho male and a human female, which developed as they lived together. Her character, Lee Dam, had never been in love before but pretended to feel comfortable about the arrangement.
Although intimidated at first, Lee Dam finds Shin Woo-yeo (played by Jang Ki Yong), to be considerate, polite, and gentle. Therefore, the natural progression of their relationship is a key selling point.
---
Great Chemistry Between Jang Ki Yong and Lee Hye Ri
To play this role well, Lee gave up several opportunities in variety shows to stay committed to the series. Her poster with Jang also received positive reviews from the public.
"I am pleasantly surprised and grateful to the positive feedback about the poster," Lee said.
Fans shared that the two leads looked comfortable and full of chemistry in their promotional poster. This was contributed by the fact that the promotional materials were done after the production – an unconventional arrangement as publicity is usually done before filming.
As Lee's character is five years younger than she is, Lee shared that she studied a lot about how a younger person should act and asked them about their reactions. Even though there was no significant generational gap between herself and her character, she wanted to learn more. During the process, she also realized similarities and differences between Lee Dam and herself, which motivated her to play her character better.
Similarly, Jang said the chemistry between the two characters went well from the very beginning. Lee was very positive all the time, and also very helpful on-site. He felt lost and challenged during the production as this is his first romantic comedy, but Lee was a great support throughout the process.
---
Tension On Set Between Kang Han-na and Kim Do-wan
Meanwhile, Kang Han-na and Kim Do Wan had a lot of tension during production. While there were prior collaborations, Kang said she had limited interactions with Kim in the past. She was happy to know about this collaboration this time and messaged Kim to discuss it. Kang considered herself lucky to develop this relationship with Kim in the story, and it showed in their performances.
The emerging actor Bae In-hyuk was tasked to play a popular role in the webtoon, and he felt pressured to interpret it well. Bae and his appearance were popular among fans as he had a resemblance with the character.
Now streaming on iQiyi mobile app and iQ.com, catch My Roommate Is a Gumiho every Wednesday and Thursday at 9:40 PM SGT/PHT.
Read More: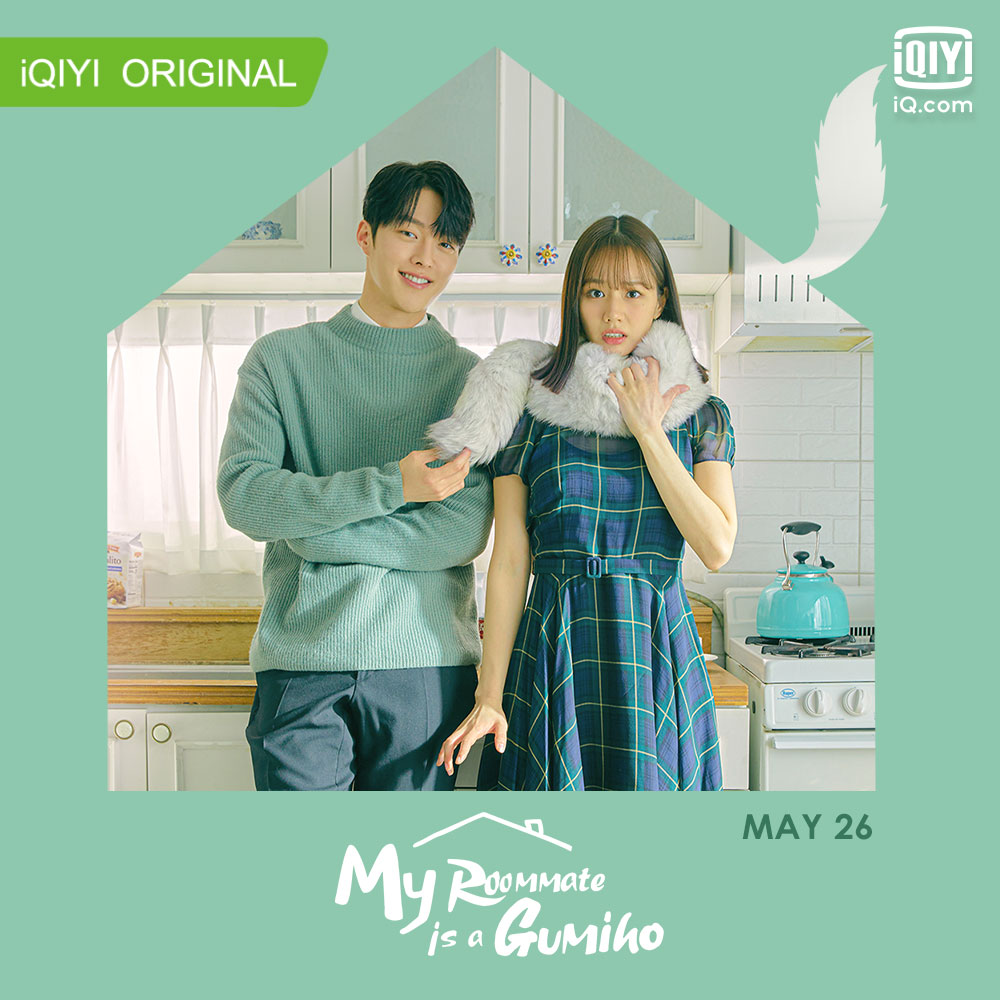 ---
PR Source: iQiyi