KBS2 TV
K-Drama
"School 2021" Releases First Teaser Video of Lead Cast
By
|
Uniquely deviating from its previous school setup, KBS2 TV reveals a video teaser of School 2021 featuring Kim Yo Han, Cho Yi Hyun, Chu Young Woo and Hwang Boreumbyeol.
School 2021 threads on the lives of 18-year-old students going on a different route from the usual university entrance examination. Chasing dreams, forming friendships and embarking on a challenging journey, these teenagers stand on ambiguous grounds.
It also foreshadows the perfect synergy across generations of brilliant young and seasoned actors. In addition, a sweet romance is also anticipated between the lead pair.
The first teaser video released shows the lead cast who have transformed as students of Nulji Science and Technology High School.
They aim for another dream other than studying. Highlighted by the young actors' perfect visuals, the pastel-toned computer graphics of woodworking tools raises interest.
Appearing in the air, the tools replace the textbooks which disappeared, and the four lead actors show various reactions. Afterwhich, Kim Yo Han and Cho Yi Hyun reveal what they will be doing as students in the latest season.
What's New in School 2021?
Unlike the previous installments, the latest series readies to explore woodworking designs.  Surely, these energetic and confident high school students are set to create a dream of their own.
Whether the franchise staples of estranged friendship, family issues and school corruptions will be included in the narrative mix, we are yet to find out.
Previously, the group poster was unveiled showing the students making the 'School 2021' logo and the woodworking club teacher Jeon Seok Ho proudly introducing the results.
As everyone worked together to complete the logo, curiosity grows about the bright, hopeful, and realistic story they will draw together.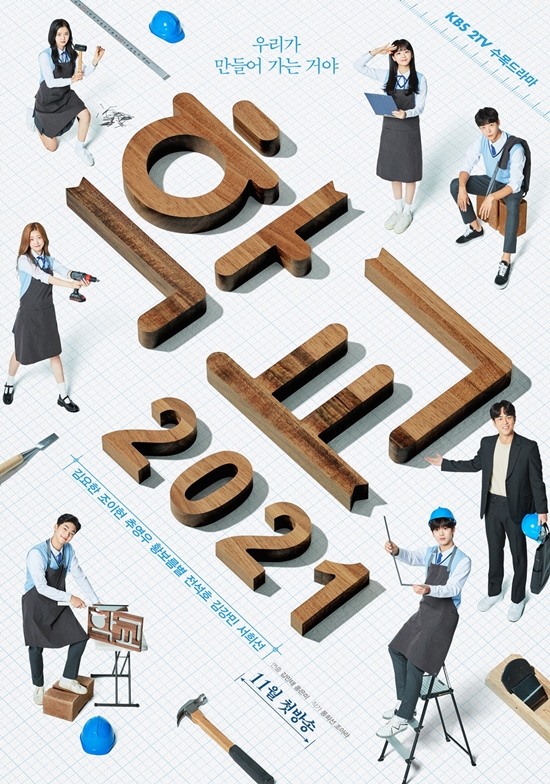 KBS 2TV's new midweek series, School 2021, is scheduled to premiere on November 17.
---
Source: TV Report | Photos: KBS2 TV