tvn
K-Drama
Bae Suzy, Nam Joo Hyuk, Kim Seon Ho & Kang Han Na Brave Their Choices In "Start-Up" Episodes 5 & 6
By
|
Banking on the world of career dreamers who want to prove their mettle in the cutthroat world of viable business ventures, Start-Up has fully gotten our attention.
Watching Do-san, Dal-mi, Ji-pyeong and In-jae navigate to their personal goals and aspirations at Sand Box is definitely not a bad idea to fill our weekends ahead of the holiday season.
After sealing a slot in Sand Box, Dal-mi and Samsan Tech founding members confront that the path to their start-up business is not at all flowery.
Bae Suzy, Nam Joo Hyuk, Kim Seon Ho and Kang Han Na have reeled us to the world of start-up companies, and it is so far a rewarding watch. More than its promised "chasing love and dreams" theme, its meaningful career and life lessons are serving heartening messages each week.
---
Start-Up Episodes 5 & 6 Highlights
"Man is the most intelligent because he has hands."
Wallowing on his depleted self-esteem, Do-san has thankfully geek friends who urges him to push forward.
Still bothered on how he is winning Dal-mi's attention because of her beautiful first love memories with Ji-pyeong, he gets the needed advices from his friends.
That even if Dal-mi is only fascinated on his hands at the moment. Those capable hands of him can do more if he wants Dal-mi to like him as he is.
At that same moment, Dal-mi chats with Grandma over the phone and tells how Do-san's hand is the coolest thing ever. She also wonders if her hands could also make her win against her sister.

---
"I'll give you a chance to get angry when you successfully enter Sand Box."
Rushing to check on the situation at Sand Box, Ji-pyeong learns from Do-san that he does not need to worry about anything anymore. That Dal-mi is also not a bit interested to his involvement.
All focused on protecting Dal-mi against her sister, Ji-pyeong also signed up as a mentor. When he was about to get the jellies Dal-mi gave her, he firmly get it back surprising Ji-pyeong.
The teams at Sand Box prep up for Hackathon, which will decide their fates on entering the renowned start-up business cradle.
Learning her sister got popular twin developers from MIT whose reputation is mainly made up of them going for anything because of money, Dalmi sets forth to improve the specs of the team.
It turns out that Dal-mi did not go to university which bothered Chul-san, but Do-san remains firm of their decision for Dal-mi to be their CEO.
Quick-witted Dal-mi signs up designer Jung Sa-ha (Stephanie Lee) to work with them.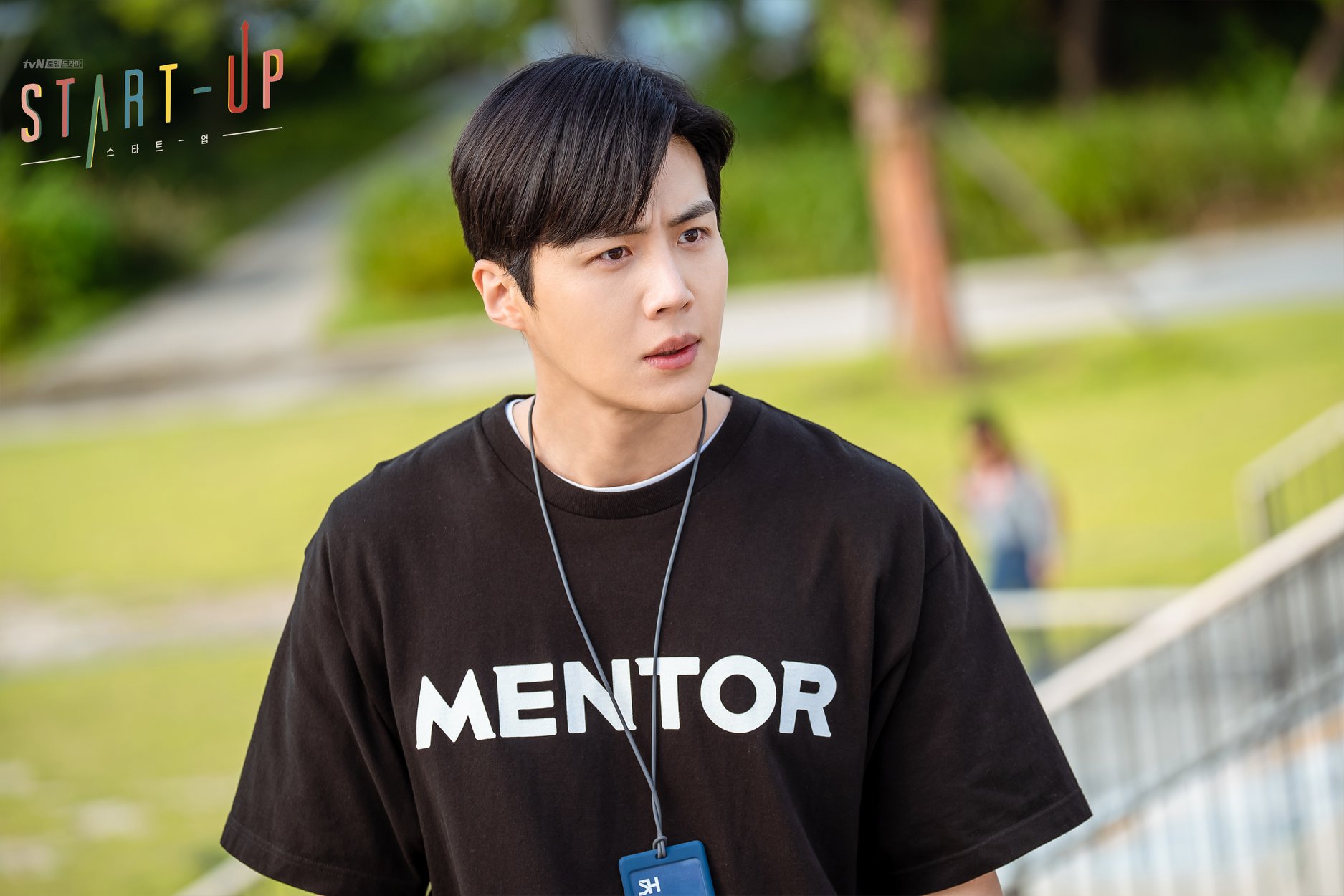 ---
"Do-san explained it to me. It's a very romantic technology."
Hackathon begins and the teams presented it one by one. They have to come up with a feasible business model and Sand Box provided them the resources to work on it. Another catch is that it has to be presented in three minutes.
Asking Dal-mi if she is familiar of artificial intelligence technology, she cheekily answered that Do-san explained it to her and understands it as a very romantic technology.
Apparently, Do-san explained it to Dal-mi last time in a Tarzan-Jane love story in an island where Tarzan works on doing a trial and error of what Jane might like.
Browsing on the list of resources for their business model, the penmanship from Jeonghan bank piqued their interest. Sa-ha providing a background on how bank has to have it to avoid fraud and forgery, Dal-mi suggests incorporating machine learning to detect handwriting forgery.
Team Samsan Tech agrees that it can be worked on as Dal-mi affirms how viable the project would be. Backing up the team secretly, Ji-pyeong was surprised to hear from Dong-chun that they already have an idea, which also impressed Ji-pyeong.
When one of the twins heard that Samsan Tech will be working on Jeonghan Bank's penmanship, they convince In-jae to work on the same resources to challenge the geeks who turned her down.

---
"I never regretted it. But I wish things could've been different. I always wished I had met you sooner."
Accidentally learning that Dal-mi did not go to the university, Ji-pyeong chases after Grandma when he saw her talking with Dal-mi's mom. Fixing her untied shoelace, he whines at why she's using worn out ones.
Confirming if she ever regretted giving him the opportunity she could have taken for herself and Dal-mi, Grandma gave another reassuring message. She tells her favorite "good boy" that her only wish before was to have met him sooner, so she could have played cards with him during the holidays and made bibimbap for his school trips. She would have also been there to fight for him if someone bullied him. It made her sad that she wasn't able to do that much for him. *awww these two
Tears escape from Ji-pyeong's eyes who hid it right away. Feeling touch, he walked away and looked for Dong-chun, fully decided to support Dal-mi because of Grandma.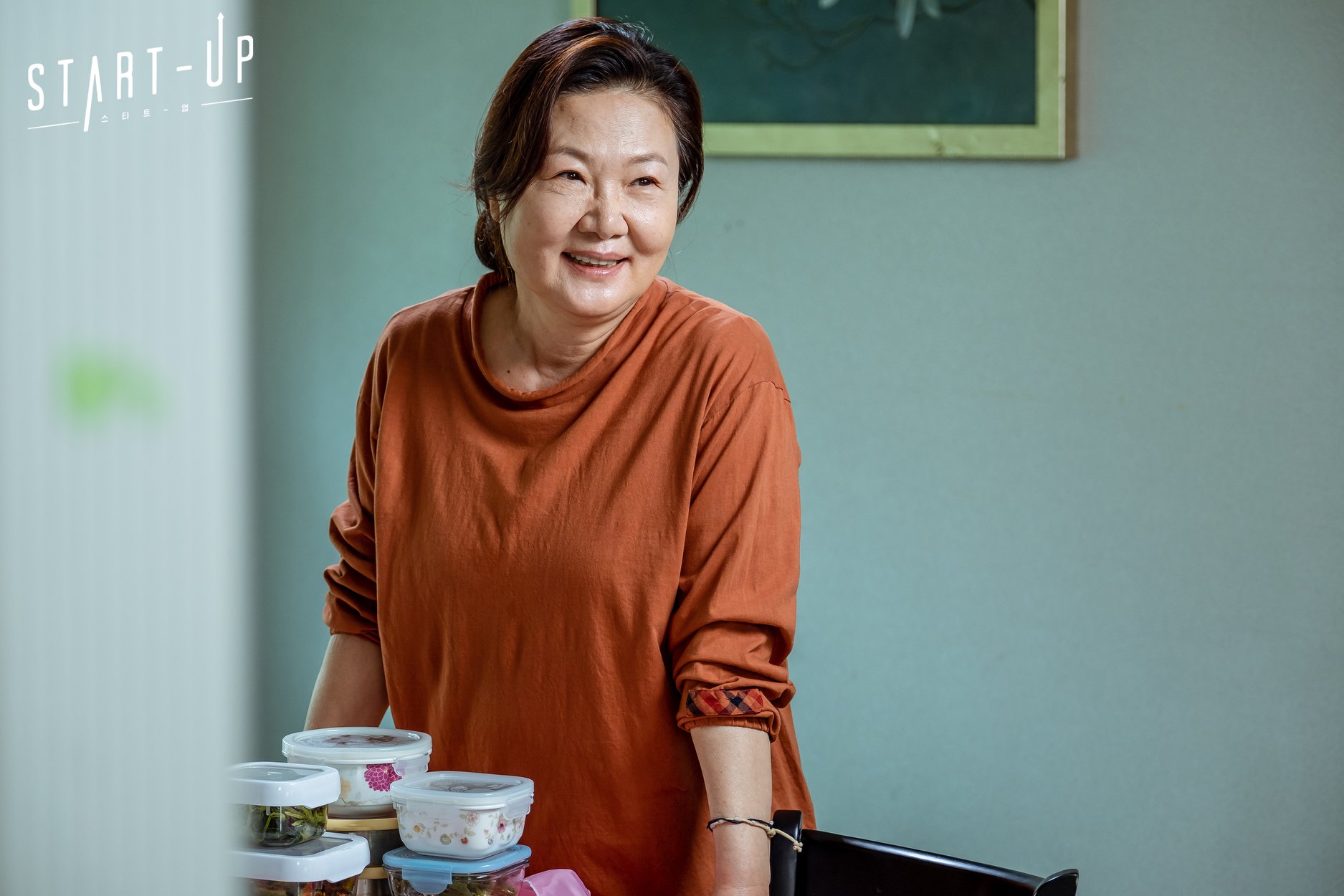 ---
"That gives you a Plan B even if you fail this."
While polishing their pitch, Do-san goes to his two friends who are worried about the idea of a high school graduate having their fates in her hands. That slightly annoyed Ji-pyeong who heard their conversation.
Bluntly chiding on how they are not in the right position to look down on how Dal-mi would fair, Ji-pyeong pointed out how they have not been successful at the very least in their past endeavors.
Giving them a Plan B, he promises to fund their business if they don't make the cut.
Mustering her strength is not easy as Dal-mi's nerves act up as her turn approaches. She bumps on Ji-pyeong who checks on her notes and gave her pointers for her pitch.
The spotlight shines on Dal-mi, and while the crowd worries about her sudden silence, she gave her all and exceeded expectations with her amazing presentation. All the while Do-san looked back in all those blunt feedbacks of Ji-pyeong which finally made sense with Dal-mi's keen insights and how she explained it.
---
"Why did you go to great lengths to help us even if it meant you had to lie?"
Team Samsan Tech received an applause for the well-executed pitch making the two Sans who initially doubted Dal-mi elated. Then came In-jae company which put a learning data using OCR to create handwriting fonts that usually take years to accomplish.
In-jae's step dad suddenly made an interesting question to incorporate Samsan tech's forgery detecting technology to see if In-jae's font technology can be detected.
Holding everyone's breath, Do-san runs their program, but unfortunately In-jae Company's software disabled Samsan Tech's created algorithm. Unsure of whether a miracle will still be set for them, Do-san looks for Dal-mi who lazily sleeps somewhere.
Ji-pyeong finds her and the nagging feeling of how his life choices indirectly affected Dal-mi settled in his thoughts again. She wakes up and realizes Ji-pyeong has been there. He finally obliges to the conversation that he kept avoiding about his connection to Do-san.
Just when Ji-pyeong is about to come clean, Do-san arrives and delivers the good news that they are in. Unable to hold her happiness, Dal-mi jumps straight to Do-san's arms.
---
New Beginning At Sand Box
Securing a slot at Sand Box is just the beginning for Samsan Tech. Basking at the joy of the opportunity given to them, Samsan friends frolic in the new resources given to them. Briefed by Dong-chun of the provisions given to them, the team is happy to learn about the technical and basic resources they can utilize freely.
To be funded by 100 million won, they were asked to submit their due diligence to which the geeks are oblivious. The CEO of the selected new recruits are also scheduled to pick their mentors.
Eyeing to mentor his adopted daughter, CEO Won was turned down as In-jae picks Director Yoon for guidance. Apparently, the director is also misled by In-jae of thinking she's the daughter behind the inspiration of Sand Box, who is really Dal-mi.
Meanwhile, instead of choosing Alex from renowned global investment company 2STO, Dal-mi opted to have Ji-pyeong as Samsan Tech's mentor.
Ji-pyeong's Advice
Team Samsan Tech presents the company's due diligence to Ji-pyeong. He lectures them about the power the CEO holds in executing the management of the business. Based on the shareholder porposal, Ji-pyeong bluntly comments how no one would invest on their business.
What Dal-mi cannot grasp yet, In-jae knows very well having experienced it first hand. Her power in the business she nurtured with her own hands as a CEO meant nothing with her step-father and step-brother's shares.
Confident that money will not come between the Samsan brotherhood, Ji-pyeong makes a realistic nudge how any relationship shares the same feeling in the beginning: built with trust, love and friendship. However, everything changes as time passes by.
Strongly suggesting over 60% of shares should be entrusted to the key man is a safe bet as mentioned by Ji-pyeong. He explains that it will protect the business when investors enter their business.
---
Deciding the "Key Man"
Picking the key man to have the controlling power becomes the first ordeal of Samsan Tech. Chul-san and Yong-san both disagree of Dal-mi having the biggest share which Do-san willingly understands.
The three friends fight like a child pushing Ji-pyeong to go out of the room. Dal-mi chases after him and she got another honest advice how the business is doomed when they are already fighting for a small amount.
Frankly pointing out that the biggest problem is also her inability to resolve the situation, Dal-mi stares at his serious face acknowledging the painful truth about what he just said.
---
"If you can't make a decision, you can't be a CEO.
Working hard to better herself as a CEO, Dal-mi bombarded Ji-pyeong with questions. Not getting any response she starts digging on books.
Ji-pyeong who finally made his presence tells Dal-mi that the books won't help her because there's no such thing as a great CEO. Looking for answers that do not exist will not help her. Instead, he advises her to make a decision and expect to get criticism.
He stresses out how not being able to make a decision will not qualify her to become a CEO.
Meanwhile, Samsan brothers reconcile after Chul-san got a blast from a milk bottle Do-san warned him about. The night before, unaware that Do-san was inside their hideout, Chul-san and Yong-san recounted how their friendship was founded because of how they are all willing to be at each other's back, without questions asked.
The two voiced out their inhibitions about Do-san's situation with Dal-mi. Hence, they can't fully lay their career lives on Dal-mi's hands.
---
CEO Dalmi's Choice
Huddling the team for a meeting, Dal-mi relayed the new shareholder's list with Do-san holding the controlling shares. Sa-ha questions why she did not get any shares so Dal-mi revealed another list with her name on it. However, because she does not answer her call and speak formally with the team members, she removed her name.
Relenting to Dal-mi's demand, the team of Samsan brothers, Dal-mi and Sa-ha take a celebratory shot. Dal-mi and Do-san meet Ji-pyeong to present the revised shareholder list. She conveys her decision did not take after his suggestion but she chose what would only be criticized by Ji-pyeong.
Letting Dal-mi go first, Do-san tells Ji-pyeong that he wants to come clean about the letters. That is to prevent a bug that might erupt in the future.
Do-san walks Dal-mi home and asks if she is not worried about being a CEO without controlling shares, but she quips that she has 71% because she has him. Asking if he can properly say hi to Grandma Choi, she agrees and fusses to clean their house quick.
Coming face to face with grandma, Do-san recalls meeting her at the eye clinic when Chul-san was treated. He also overheard her situation of losing her vision.
---
Start-Up Episodes 5 & 6 Afterthoughts
Episode 5
Yay! for our victorious Start-Up underdogs! This series, packaged to follow the chasing-dreams-love trend, has honestly so much to offer. It is unapologetic in gifting lessons for budding youth who needed the right rationalization on their ventures.
That is specifically channeled from Ji-pyeong's perspective. He is there to bluntly share feedback so Do-san can face the reality that success does not happen overnight, even with his remarkable skills.
Start-Up is also giving us a deeper look on how hard work matters more than connection, that building a well-respected branding goes a long way in whatever endeavors we wish to aspire.
Revealing Dal-mi's educational attainment which seems to be not a weakness is a shoutout to how competence is not mainly dependable on whether or not you finish school. Just like Dal-mi, her experience and her eagerness to learn skills she can use make her such an inspiring character to root for. Her being street smart is definitely at par to all those with university diplomas who have boxed thinking.
Episode 5 hints a change in the direction of Do-san's character and I definitely want that to happen because his character is making the least impact in the series to be honest. I hope that destroying that poor ball pen will be the final push for him to be confident enough for a whole new world that awaits him.
His parents briefly described how he has a self-sacrificing nature and would always give way for others. It will be interesting to see him develop into a man who knows his worth because he is more than just a coding peasant.
Another Grandma-Good-Boy moment is always welcome, and we are treated to another memorable scene of encouragement from Kim Hae Sook and Kim Seon Ho. I just hope that Ji-pyeong suiting up as daddy-long-legs to Dal-mi will not lead to romance.
I just want him to be in love with Grandma. That's a safe bet. That's for the benefit of us who does not want to be jealous and who root for Ji-pyeong-Do-san bromance.
Episode 6
Episode 6 of Start-Up gave us a trip to how the friendship among the Samsan brothers was cemented. The three have been adding the vigor and humor in the series, and let's hope their fictional brotherhood won't take after the plot of The Social Network.
Haunted by wanting to come clean to the girl he likes, Do-san makes an unlikely decision. But will he really do it or something will crop up. Additionally, In-jae's cunning move to assume Dal-mi's identity is so like her. But we hope it backfires with a lesson. A love triangle involving Ji-pyeong, Dal-mi and Do-san is not a welcome idea for me. Let's focus on building a company.
Three weeks after its premiere, the world of Sand Box has reeled me as a viewer to be a silent investor, of course with fictional money. While the characters are interesting so far, Ji-pyeong and In-jae register more to me than its lead pairing. Most likely because even their fictional roles are already established and decisive. Unlike Do-san and Dal-mi's who are perceived to move along the turning points of the series.
Its setting is still the biggest bait why I am rooting for Start-Up. I like how it is giving me details and overview of how a business evolves from a mere idea to something that affects the daily life of people.
Catch up on Start-Up every Saturday and Sunday on Netflix.
---
Photos: tvN
Videos: The Swoon | VLENDING