Starship Entertainment
K-Pop
MONSTA X Reveals Exciting Scheduler For 9th Mini-Album "One Of A Kind"
By
|
Mark your calendars for lots of amazing content ahead of this fabulous sextet's comeback!
MONSTA X unveils the scheduler for the much-awaited Korean comeback with the 9th mini-album One Of A Kind.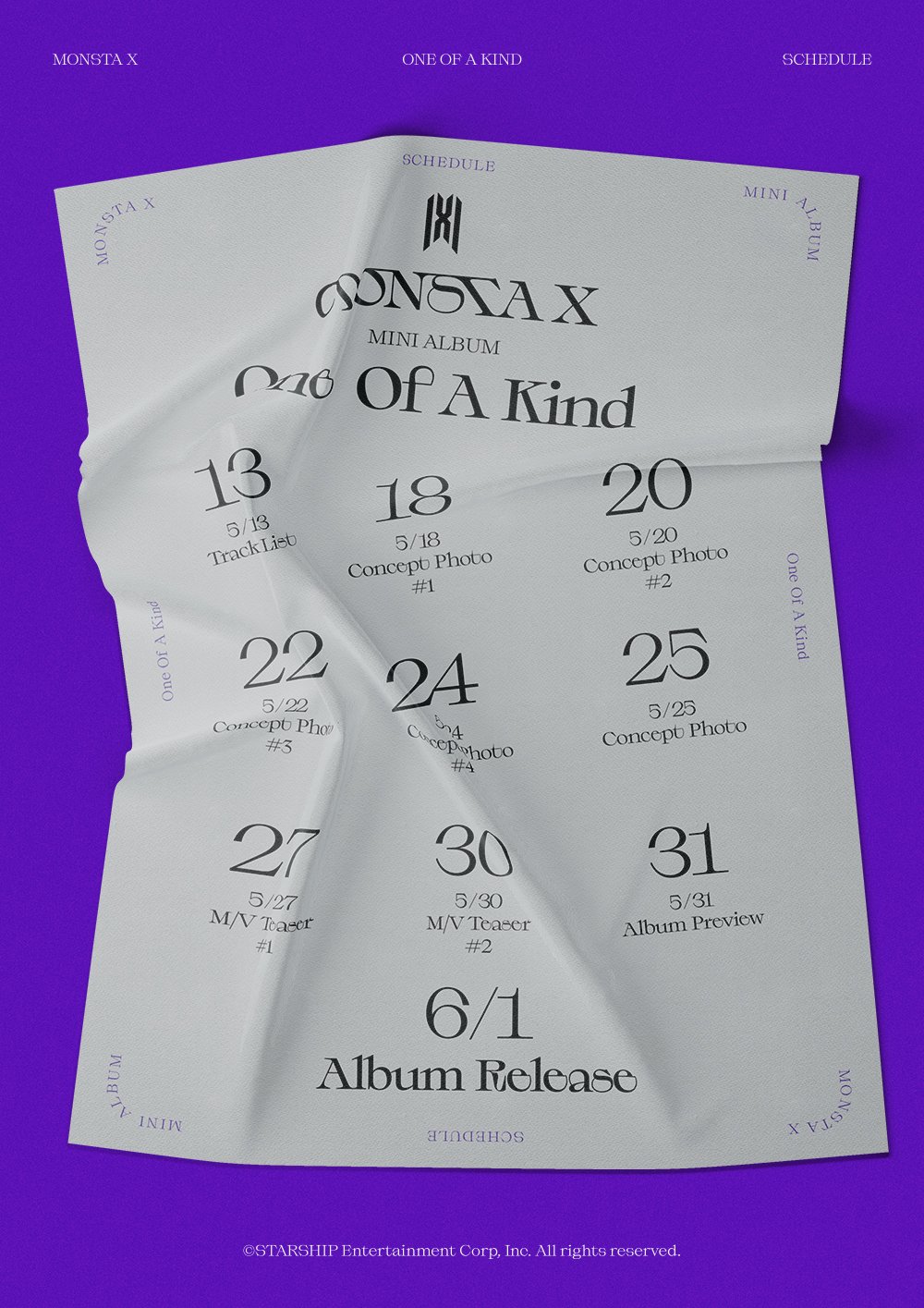 Returning to the Korean spotlight after seven months, the young men of MONSTA X will astonish MONBEBE with a mini-album which will be for sure, filled with surprises. On May 10, a schedule poster was shared on its official social media accounts, marking the start of an exciting era.
The scheduler poster certainly piqued curiosities with its plain purple-colored background. A crumpled paper sees the important dates for fans to anticipate, starting from the tracklist reveal on May 13.
Followed by a reveal on May 18, MONSTA X is expected to provide heart-fluttering visuals with concept photo #1. Two days after, on May 20, more stunning sneak peeks will be unveiled with a concept photo #2.
Then, another set of enticing content will delight fans with concept photo #3 on May 22. Next, concept photo #4 will be shared on May 24, followed by another concept photo on May 25.
The all-rounder group will present a stunning treat for fans' eyes and ears with music video teasers on May 27 and May 30. Consecutively, a heartwarming album preview will leave fans wonderstruck on May 31. Finally, MONSTA X will take MONBEBE's breaths away with the official release on June 1.
Drawing attention from global fans, MONSTA X has initially released a coming soon image on May 1. Set to have a Korean comeback after Fatal Love, huge attention is now focused on the upcoming release from the beastly-idols.
Amazingly, the group's stunning performance is not only presented well in Korea but also in Japan, as they proudly took over the top spots at the Oricon and Tower Records charts with "WANTED."
Relatively, the third Japanese full album Flavors of Love also created an amazing feat, ranking high on Oricon and Tower Records' weekly charts.
Meanwhile, MONSTA X is actively preparing their best for the upcoming 9th mini-album One Of A Kind. MONSTA X will undoubtedly heat up the music industry on June 1. Furthermore, leader Shownu will not be able to participate in the album promotions due to his current health condition.
---
PR and Image Source: Starship Entertainment