Starship Entertainment
K-Pop
MONSTA X Reveals Ravishing Tracklist For 9th Mini-Album "One Of A Kind"
By
|
What a one of a kind treat! We got tracks from Hyungwon, Joohoney, and I.M!
MONSTA X unfolds extreme excitement with a tracklist for the much-awaited 9th mini-album One Of A Kind.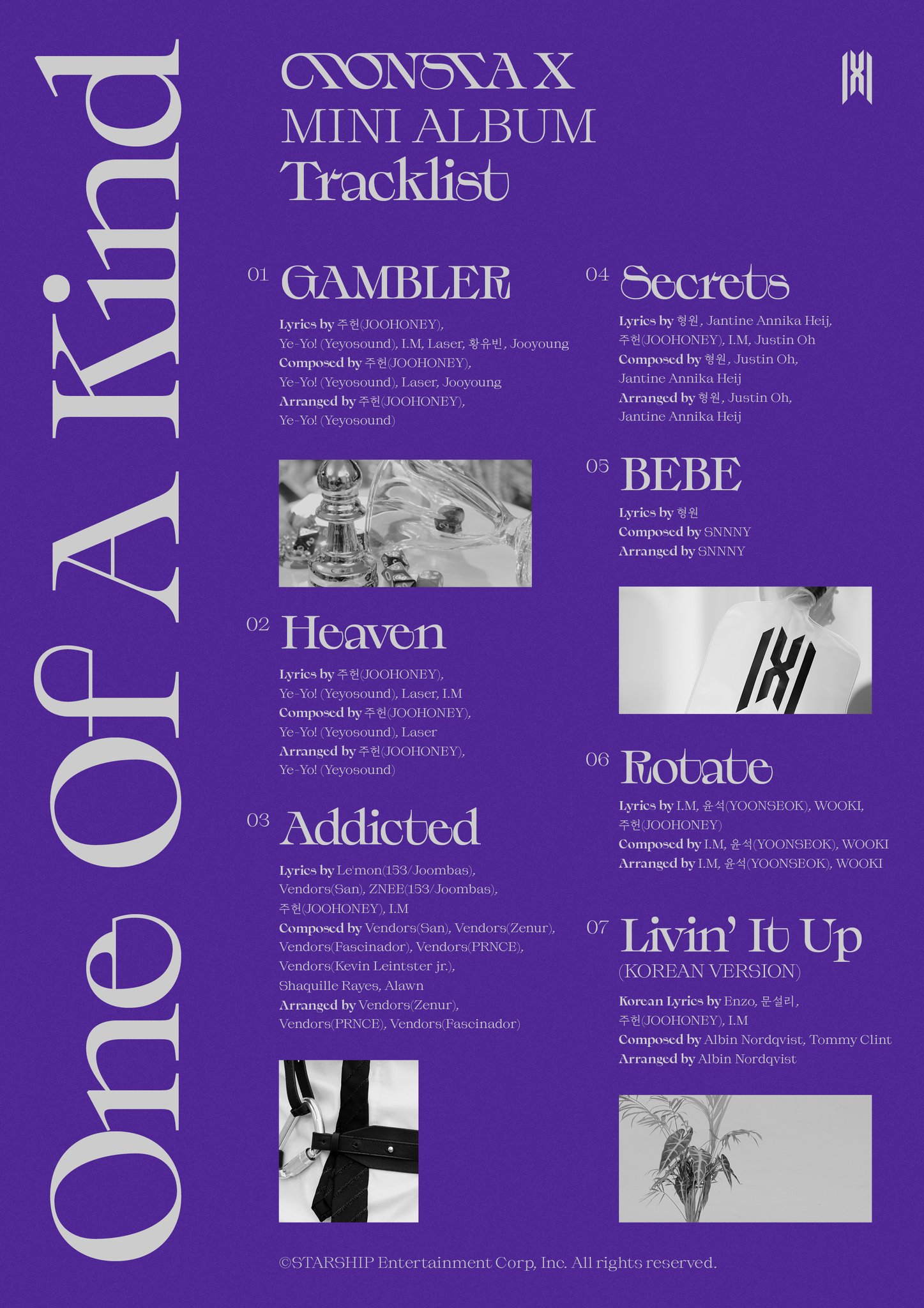 On May 13, MONSTA X revealed the tracklist image for the 9th mini-album One Of A Kind which features a total of seven tracks.
Placed on a purple-colored sensuous background, the tracks "GAMBLER," "Heaven," "Addicted," "Secrets," "BEBE," "Rotate," and the Korean version for "Livin' It Up" heightened anticipation from fans. But what made this album much more wonderful was the participation of the members in the arrangement and composition of some songs.
Particularly, the main rapper Joohoney expanded his musical spectrum with his creation "GAMBLER" as the 9th mini-album's title track. Equally drawing attention from the general audience, the names of Hyungwon and I.M are also seen at the credits. Specifically, the face genius Hyungwon will participate in MONSTA X's album for the second time after his groundbreaking singer-songwriter debut with "Nobody Else" from the 3rd full album FATAL LOVE. Hyungwon's tracks "Secrets" and "BEBE" definitely caught fans' curiosity as well as I.M's self-composed masterpiece "Rotate."
With the members' names dominating the tracklist credits, this has definitely signaled the birth of a meaningful new album that features MONSTA X's impressive growth as musicians.
Earlier, MONSTA X had received various prestigious awards such as its first Grand Prize (Daesang) since its debut in 2015. Relatively, as they continuously stood tall as great performers who always prove they're A class, MONSTA X also achieved a great feat with the third Japanese full album Flavors of Love. Topping the Oricon Daily Album and Tower Records weekly charts, MONSTA X has tremendously raised its status as a global icon that represents K-pop around the world.
Meanwhile, huge expectations are mounting for what kind of concept will MONSTA X offer with the 9th mini-album One Of A Kind. As the boys set off a Korean comeback after about seven months with FATAL LOVE, fans are undoubtedly thrilled for the album's release on June 1. Furthermore, MONSTA X also celebrated its 6th year in the music industry with a special VLive broadcast, greeting MONBEBE as a whole group after a long time.
---
Source: Starship Entertainment