PLEDIS Entertainment
K-Pop
NU'EST Unveils Ravishing Tracklist For 2nd Full Album "Romanticize"
By
|
NU'EST's tracklist for Romanticize is filled with the members' names at the song credits and we cannot wait to listen to them all!
#NUEST_JR_아론_백호_민현_렌 #뉴이스트 #NUEST #Romanticize #INSIDE_OUT #NUEST_INSIDE_OUT
NU'EST has released a tracklist for the 2nd full album Romanticize featuring the title track "INSIDE OUT."
In the afternoon of April 12, PLEDIS Entertainment released the tracklist for the album, which is filled with excitement just by visually looking at the song credits.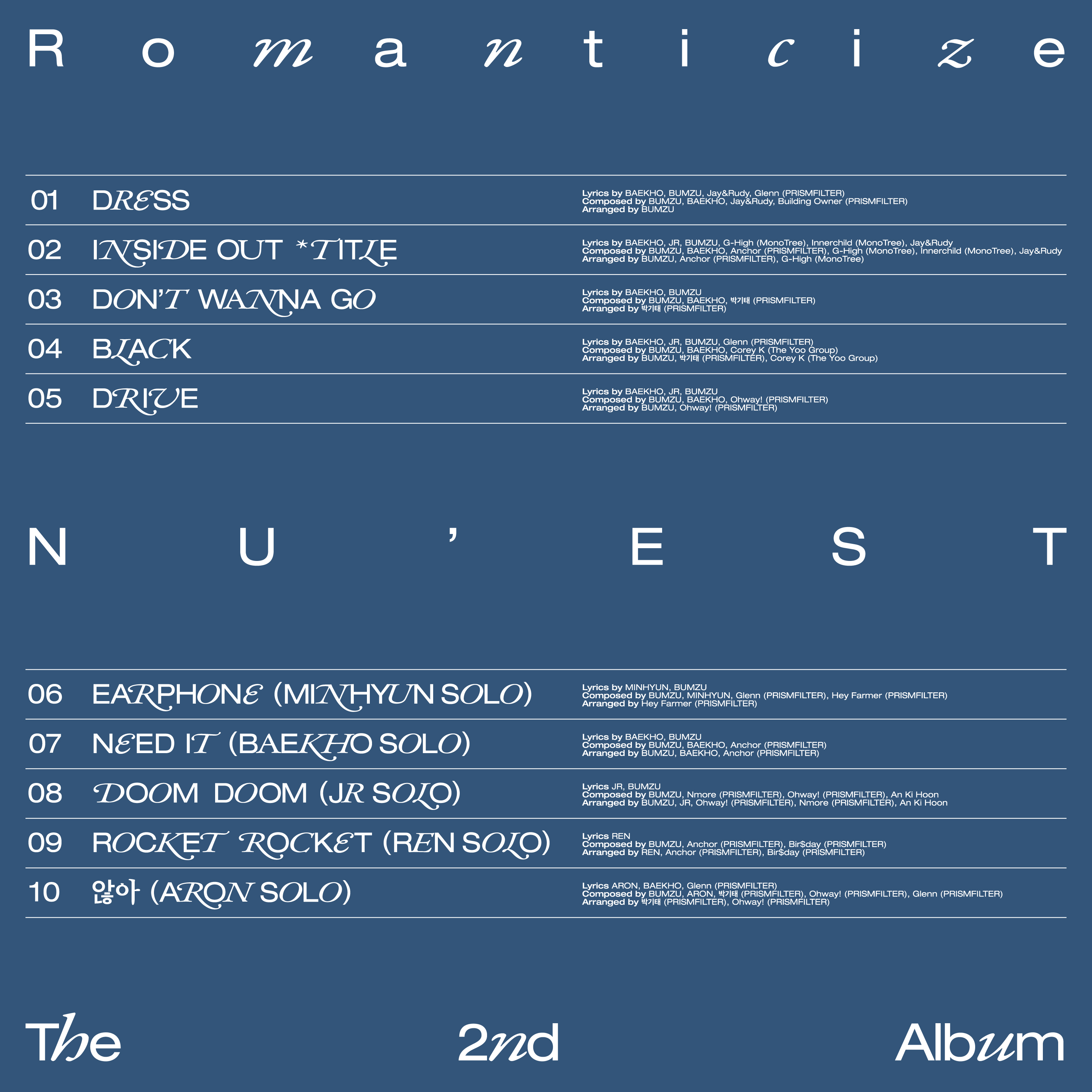 The tracklist image features sensuous typography with the background color of dark blue, adding a sophisticated feeling. Relatively, a total of 10 songs draw attention to NU'EST's wide musical capabilities which will be once again proven with this 2nd full album.
Particularly, the title song "INSIDE OUT" is a song that features a minimal track sound based on the Chill House genre. Specifically, the charismatic leader JR participated in the songwriting along with NU'EST's genius composer Baekho who actively worked on its arrangement as well.
NU'EST The 2nd Album 'Romanticize' Track List
💗Title Track 'INSIDE OUT'
💿2021.04.19 6PM KST#NUEST_JR_아론_백호_민현_렌#뉴이스트 #NUEST #Romanticize #INSIDE_OUT#NUEST_INSIDE_OUT#20210419_6PM_KST pic.twitter.com/hOn9paZpkZ

— 뉴이스트(NU'EST) (@NUESTNEWS) April 12, 2021
Additionally, the songs "DRESS," "DON'T WANNA GO," "BLACK," and "DRIVE" caught much attention from the fans, all of which Baekho also participated in the songwriting and composition. But what made LOVEs thrilled were the solo songs from the members. Minhyun will be attracting fans with his calm and soothing vocals with the song "EARPHONE", while Baekho is expected to showcase his explosive vocals with "NEED IT".
Further, JR's "DOOM DOOM" will present the main rapper's flexibility as an artist. Ren's "ROCKET ROCKET" will be providing a new era of amazingness. While Aron will provide yet another addition to our daily playlist with "않아" (literal translation: "I Don't"). Proudly, all the members' names are seen on the credits as they participated in the lyrical writing and arrangement.
Moreover, the 2nd full album Romanticize has the dictionary meaning of "making it more romantic than it really is". Specifically, NU'EST will be raising expectations for its 2nd full album. The five-member boy group will be pouring out various content such as concept homepage updates, pre-listening, and MV teasers.
Meanwhile, NU'EST will release its second full-length album Romanticize on April 19 at 6PM KST. Along with the release is the music video for "INSIDE OUT".
---
Source: OSEN