Photo from @weareoneEXO
K-Pop
#HappySuhoDay: 22 Times EXO's Suho Shows He's One of the Best Leaders
By
|
Today (22 May) marks another year of the world being blessed with the presence of EXO's beloved leader Suho, and of course, we're celebrating it!
EXO's Suho, or Kim Junmyeon, has been proving to be more than capable of being EXO's leader ever since its debut. He never fails to take care of his boys, no matter how many times they gang up on him, and he always makes sure to keep them in line amidst their crazy antics.
Despite being a busy man, thanks to his solo ventures both as a singer and as an actor, he still goes back to being EXO's one and only reliable and caring leader at the end of the day. This is why both EXO-Ls and EXO members love him endlessly, and aren't afraid to tell the world just that.
Because it's his birthday today, we decided to look back at all the times he made us want to scream "That's our leader Suho!" at the top of our lungs.
Here are 22 times he made our hearts full by showing the world how a leader should be like:
1. When he presents himself as EXO's proud parent
Nothing warms our hearts more than Junmyeon owning up and claiming his spot as EXO'S proud parent every single time.
2. When he just nonchalantly gave his credit card to a hungry Kyungsoo
Junmyeon didn't have to think twice about handing Kyungsoo his credit card – feeding his child is something he should do, anyway.
3. When he attempted to keep his cool while Chen and Chanyeol ganged up on him on national TV
No matter how many times Chen and Chanyeol ganged up on him during the entire show, Junmyeon still kept his cool and smiled all throughout. We all know the two only kept poking fun at him having a weird sense of humour, and being awfully messy were all in good spirits, anyway.
4. When he still tried to show his love by hugging Sehun despite getting rejected initially
They say unrequited love hurts the most – but that doesn't stop Suho from showing his love.
5. When he stopped Lay from humping the stage to keep the show PG-13
He goes at great lengths to make sure their shows remain to be watchable by minors, even if it means stopping Lay the moment he figured out what was bound to happen.
6. When he calmed down a hungry Kai during an awards ceremony
During the 2015 Seoul Music Awards, Suho's way of calming a pouty and hungry Kai down stole the hearts of fans. With just the leader's gentle "Let's eat later" while looking him in the eye with a very calm look, the younger member went from having a troubled expression to looking assured.
7. When he visited EXO-CBX backstage to show support for the EXO sub-unit
Despite his busy schedule, he still managed to slip into EXO-CBX's dressing room before their performance to show his support. Talk about being a stage mom!
8. When he admitted he nags at Sehun
In Suho's defense, a leader should look after the group's maknae, and make sure he's doing fine and good.
9. When he prioritized guiding his lost children D.O. and Baekhyun in the midst of his MC duties
He just couldn't take it seeing D.O. and Baekhyun standing at the wrong place and away from the rest of the group – so even if he was one of the event's MCs, he still went ahead to guide them to the right spot.
10. When he gestured for Baekhyun that it was his turn to introduce himself
Baekhyun was lost there for a moment – good thing Suho's got it under control.
11. When he only laughed after Kyungsoo accidentally hit him hard on the face with a toy
We think that might have hurt a lot, but just watch Suho laugh about it instead of getting mad.
12. When he tried to keep his composure and delivered his thank you speech despite Kai trying to bite his ear
Not only was Kai a major distraction, but the entire group radiated so much energy, and were basically restless the entire time. Still, Suho had to deliver his message, and the show had to go on.
13. When he made a suggestion to appliance companies about using EXO's superpowers in their advertisements
Ah, of course. What's the point of being a leader if you won't invite advertisers to invest in you and your group, right?
14. When he succumbed to the rest of EXO convincing him to enter the freezing water because he is "EXO-K's leader"
Who would go into freezing cold water just because his group told him it would make a good image of a leader? Only Suho… only Suho could fall into this trap.
15. When he made the most complex and enlightening analysis of one of their songs "Call Me Baby"
Uhm, yeah, okay, that was a very in-depth interpretation.
16. When he had to do a trust fall and cried after not because he was scared but because he was happy that the other EXO members were really there to catch him
Every relationship is built on trust – and that includes a leader's relationship with his group.
17. When he cried while accepting the first award EXO won
He says the memory of it embarrasses him a bit now, but honestly, it only makes us fonder of him. Who would've thought EXO would get to where they are now, right?
18. When he wrote a letter thanking and saying how much he loves each and every EXO member
Just listen at how heartfelt it was, and how he ended every message with "I love you" to each and every member – our eyes are sweaty.
19. When he puts comforting members who are crying on stage before his own emotions
Suho shows the qualities of a great leader as he stays strong and puts his team before himself.
20. When he makes it a point to remind us that he loves us and "we are one"…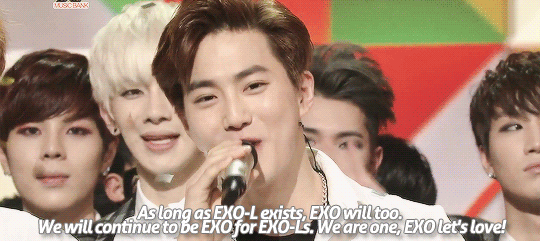 21. … again…
22. … and again!
We would never get tired of hearing it, honestly. We love you too, Suho! Happy birthday!
How does this story make you feel?