News
BLACKPINK Reunites With BLINKs Through Special Online Fan Meeting By Globe Kmmunity     
By
|
Filipino BLINKs definitely had the best time of their lives in the recently held online fan meet by Globe Kmmunity PH titled Show You Like That: An Exclusive Show for the Ultimate Globe Fans!
Phenomenal and award-winning K-Pop girl group BLACKPINK spent a wonderful and eventful night with fans through the special fan event Show You Like That: An Exclusive Show for the Ultimate Globe Fans. 
Amidst the ongoing effects of the coronavirus pandemic, Jennie, Jisoo, Rosé and Lisa made sure that Filipino BLINKs had the best and joyous time through the said gathering. The quartet did a great job in making a fun and lovely atmosphere that brought out aspects of their friendship and chemistry. 
The fan meeting aired at around 7:00 PM KST and was free of charge. Making it more meaningful,  Filipino BLINKs just had to join Globe Kmmunity's official PH Facebook group in order to join the virtual party. Revolving around a casual concept, the girls actively participated in various segments and corners, giving fans the opportunity to get to know them on a much deeper level.
 Globe's Chief Commercial Officer, Issa Guevarra-Cabreira, stated, "A lot of us have been deprived of experiences that bring delight ever since the pandemic which is why we are more than happy to serve our customers with exclusive experiences and exciting treats like this show together with global ambassadors, BLACKPINK.
DESIGNING GLOBE AT HOME X BLACKPINK MODEMS
Demonstrating their creativity and unique sides, the girls designed their own Globe At Home X BLACKPINK Modems in the event. Sharing her love for cats and UFOs, Lisa used a bunch of stickers to decorate her item. Meanwhile, Rosé went crazy with gemstones, since she aimed for the "wild beauty" concept.
Representing what the Philippines is known for as well as the summer season, Jisoo utilized a palm sticker as her focal design while Jennie just kept it simple and fresh. 
GETTING TO KNOW THE FILIPINO CULTURE AND FANS
To get closer to Filipino BLINKs, BLACKPINK had a chance to unbox a Balikbayan package containing true Pinoy items. The girls were able to learn about the culture and customs Filipinos practice as well as the true meaning behind objects such as ukelele, abaniko, banig and of course, jeepney. 
Letting her fun personality do the talking, Jennie also tried playing jackstones, which she compared to gonggi, a popular Korean children's game involving five pebbles. 
The fan meeting would not be complete without the presence of a segment wherein BLACKPINK would watch their dearest fans groove and cover their hit songs. Some of the tracks BLINKs covered in the videos shown were "Lovesick Girls" and "Pretty Savage."
Jennie, Jisoo, Rosé and Lisa praised the participants for their style, expression and gestures. Jisoo shared that she would want to see these performances live someday. Meanwhile, JENNIE admitted that she was impressed with how their fans were able to mimic their choreographies in a precise manner.
Capping off the event with a bang, the group also watched a tribute video especially made by their fans as a way to thank them for their hard work. The lovely girls were able to reminisce and recall the special moments they spent with BLINKs, during the times when there is no pandemic lurking around at all. 
Jennie said, "I thought I was really getting used to the contact-free life, but seeing these clips from our concert and our fans really hit me how long it's been since I last saw our fans, and how much I miss them."
MORE FUN PRODUCTS TO TRY AND CHOOSE FROM
Fans who are still on a high from the even can also take part in the Hallyu At Home special event, which will run until July 30 on the World @ Home platform.
In the said virtual occasion, everyone can experience the ultimate BLINK life. Those who will participate will also get a chance to win 10 limited edition Globe At Home x BLACKPINK modems or twenty BLACKPINK solo kits.
To earn more raffle tickets, winners have to post their selfies taken from the Selca @ Home booth in the World @ Home platform on Twitter together with the hashtag #GlobeBLACKPINK up until July 2. Just visit this link to register for the Hallyu At Home room.
If you want your own Globe At Home x BLACKPINK Limited Edition Modem, you can just go to Globe's website and checkout immediately. You can already have it between your hands for just PHP 2,499. It also comes with exclusive BLACKPINK photo cards and stickers, perfect for every K-Pop collector out there.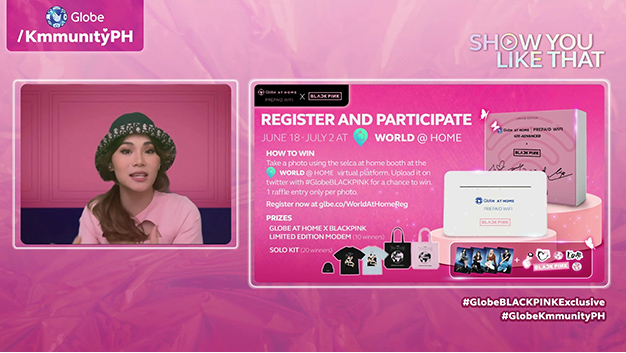 There is also a sim and call card bundle available for purchase together with BLACKPINK special photo cards. You can just visit this link to learn more. 
Apart from these, you can also enjoy watching your favorite videos of the girl group for only PHP 99. All you have to do is to register to Globe Prepaid's newest promo Go+99, which is valid for 7 days. 
To know more about the upcoming promos and updates about K-Pop and K-culture, join Kmmunity PH's official groups on Facebook, Viber and Twitter. 
---
PR Source: Globe
Photos from Globe and KmmunityPH's Twitter Account