Screencap from Viu
TV / Movies
Ha Ji Won Brightened Sung Dong Il, Yeo Jin Goo & Kim Hee Won's "House On Wheels" With Her Cheerful Attitude
By
|
Quick to smile and laugh, House on Wheels gave a treat to Ha Ji Won fans in her recent guesting.
The beautiful actress stunned with her lively demeanor and polite manner. Rarely appearing in a variety show, Ha Ji Won reconnected with senior actors Sung Dong Il and Kim Hee Won. She joined the spectacular powerhouse guest list of actresses who had previously appeared in the show.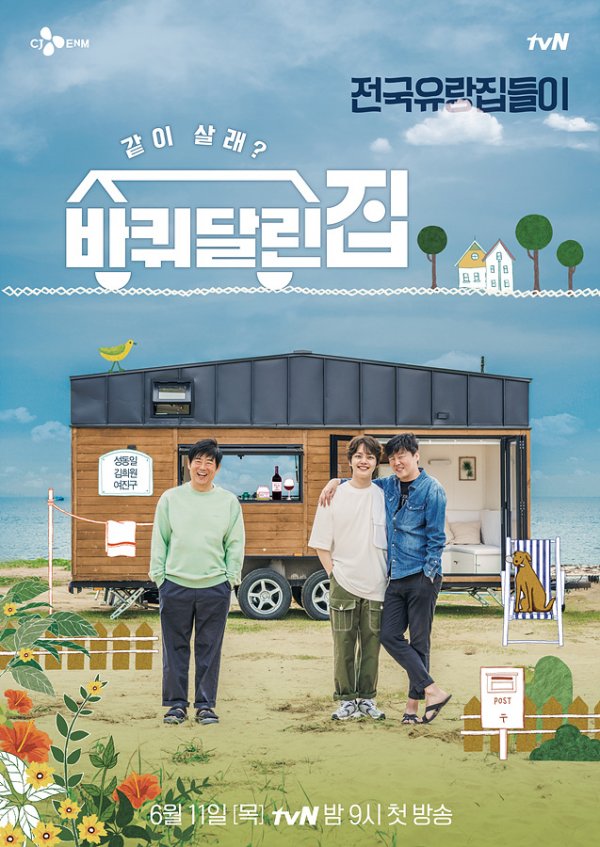 Sung Dong Il, Kim Hee Won and Yeo Jin Goo have been driving their "house on wheels" since June.
Given its concept of driving a small moving house which the actors use while traveling to places, it has surely drawn attention for its candid setup highlighting nomadic lifestyle.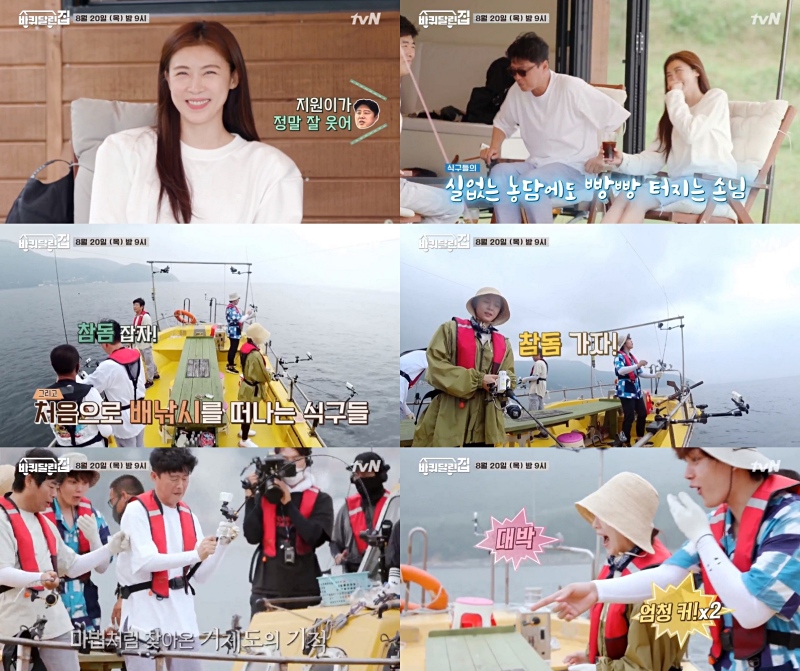 ---
House on Wheels Visits Gorgeous Goeje Island
Featuring the second island to visit for its 11th episode, the picturesque mountain and beach views surround "house on wheels". Matching its scenic vistas, Ha Ji Won further enlivened the show with her perky spirit.
Bringing in some hijiki kimbap, a famous locally produced kimbap variety, she also knows the complementing food to fill their tummy up. Presenting the pickled cucumber for cold soup, she also displayed a jar of pickled plum from her aunt's harvest.
A woman of myriad lovable expressions, Ha Ji Won amuses on her well-mannered interaction. Even Hee Won pointed out how they were receiving her orders happily because of Ji Won's courteous do-this-do-that requests.
---
Fan Boy Jin Goo
Noticing Jin Goo suddenly became quiet, Dong Il figures his junior feels shy in the presence of Ji Won. Earlier, he confessed to his seniors that he looked forward to meeting the pretty actress. When she arrived, his dreamy face surely plastered a neon sign that says "Ji Won noona. I'm your handsome fan".
Admitting he can't lock his eyes on hers, Ji Won felt happy and told them that her mom is a big fan of Jin Goo. Tactful and doting, Ji Won made sure to slide her praises citing her mom also likes Dong Il and Hee Won.
Further sweetening the cozy kimbap break, Ji Won gets another set of gifts she prepared – which are handmade soap complete with Ji Won's personalized dedication note. Sharing she made the soap with herbs and edible flowers, the House on Wheels brothers stare on their soaps like how boys look at sports cars. Ji Won further explained how she picked the scent based on their personalities.
Cutely sulking on the photo Ji Won used for his soap, Dong Il can't agree to Jin Goo's mumble that he will hang Ji Won's gift at home. Endearingly laughing at the boys' reactions, Ji Won explained that the "tired from work" photo of Dong Il looks cool.
Refreshing Stone Beach Walk
After a hearty meal, the four head to visit the nearby beach. They pass by a stream and play a little with the fresh water flowing. Just as Dong Il explains how the stones are not slippery because of fresh water, Hee Won fumbles on his step earning laugh from the team.
Commenting on the slippers both Dong Il and Hee Won wear, Jin Goo cutely whine that he does not have it because it was a couple slippers for the two. Jin Goo also snaps some nice photos with his senior actors as subjects.
While frolicking on the stone beach, Jin Goo attentively cares for noona Ji Won. He is quick to lend his strength while threading the tricky stone beach. Facing the wide sea, the team won't let the chance pass to play duck and drapes. Pretty noona Ji Won made the actors smile by getting only one bounce.
---
Goeje Fishing Contest
Moving forward to the planned fishing activity, the four prep to reel in some fish. Ji Won greatly anticipates the sashimi dinner treat that will be hosted by Jin Goo and resident chef Dong Il.
Excited to flex his fishing prowess, Dong Il's expectation meets reality as he was declared the sorry loser of the contest. Both Jin Goo and Ji Won got quite a number of catch. Capping off the bountiful harvest, Hee Won reached cloud nine with a double catch.
Compensating for his unlucky fishing rod, Dong Il prepares yummy sushi from the well-cut fish done by Jin Goo. Night came and the four munch on sumptuous seafood feast while enjoying the night dinner on board the boat.
After a long day, the three brothers and their guest muse are dog tired. Ji Won's relaxing music playlist fills the air dozing the maknae.
He woke up adorkably cute and helps his seniors to set up the decorative lights brought by Ji Won.
Next week, House on Wheels brothers and Ha Ji Won continue their food feast with savory dishes.
Don't miss the second part of Goeje Island episode on August 27 via tvN.
Watch the highlights of episode 11 below.
---
Photos: Screencaps from Viu