Sony Pictures Korea
TV / Movies
Kang Ha Neul & Chun Woo Hee Are About To Affix Their Love To Chance In Melo-Romantic Film "Rain And Your Story"
By
|
Rain And Your Story is ready to deliver a contemplative romantic narrative about a love that has endured distance and time.
Rain And Your Story ignites anticipation for yet another heartwarming film centered on young love. Pairing on the big screen for the first time, Kang Ha Neul and Chun Woo Hee prepare the viewers for a riveting romance that will challenge probabilities as they try to satisfy their longing for each other.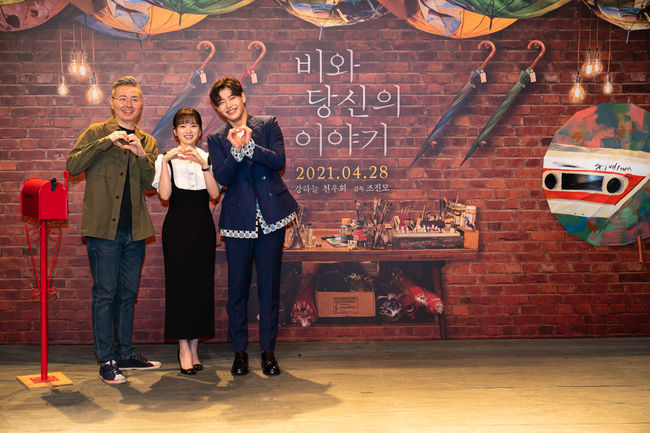 On March 31, the production team and its cast held an online press briefing to formally introduce the movie to the public. Teasing the media with an overview of the narrative, the film gives a moving take on how love can spring from a serendipitous mistake and eventually spans distances. The concoction of thrill, hope, and sadness will wrap the movie in a poignant recollection of growth through the simple means of writing letters.
Film director Jo Jin Mo expressed his delight in working with his lead actors. "From the beginning, I wanted to do the movie with Kang Ha Neul and Chun Woo Hee. Thankfully, it was so good that it went as planned. I still have the excitement I felt at the time of casting."
He further explained how the film's title couldn't be more fitting to describe the story, which is a deviation from the usual use of abstract titles. "I wanted to tell a story in this film, and rather than using an implicit title, I wanted to use a vivid description that would make people reminiscence special feelings or thoughts down the road. I couldn't come up with a title more suitable than this."
Rain And Your Story Sneak Peek
Traversing a love defied by space and technological limitations, Rain And Your Story details the blossoming romance between Young Ho (Kang Ha Neul) and So Hee (Chun Woo Hee). In an old-school ambiance, the two characters connect through the longhand method.
Young Ho is a young man who lacks ambition. He tries to get into college for the third time. One day, he sends a letter to his friend, Soo Jin (Kang So Ra), who happens to be So Hee's sister. The letter, however, accidentally gets into Soo Hee's hands. On her sick sister's behalf, So Hee responds to Young Ho's letter.
What seems to be a fleeting moment of connection between the two becomes an indispensable part of their daily lives. As the pair continues to exchange letters, they develop affection for each other in the process. And as if challenging the odds, Young Ho proposes that if it rains on December 31, they will meet.
Character Portrayals
To portray Young Ho's affection and innocence in the most natural way possible, Kang Ha Neul needs not look further for anyone to pattern his acting from. He mentioned that Young Ho, in more ways than one, is him. "As I suit up for Young Ho, his hopes and sadness are something that I have experienced too." The actor said that he reflected on some of his personalities and experiences and compared them with Young Ho's.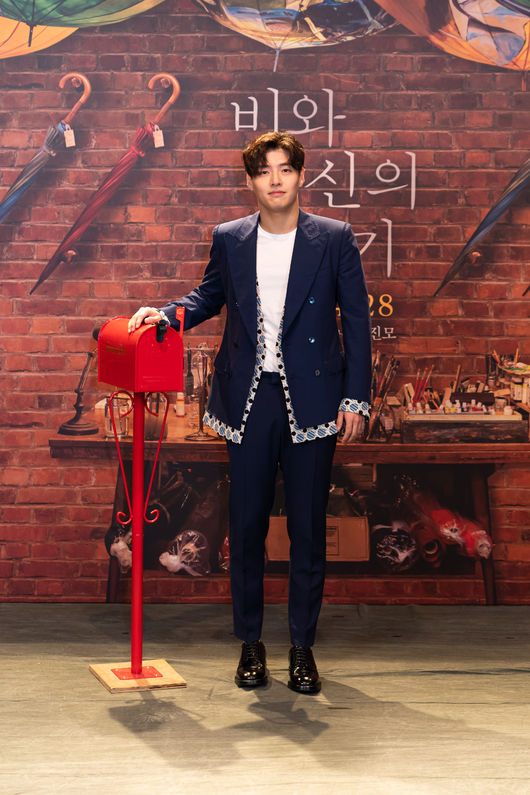 The award-winning actor also shared how his character and the film's story made him emotional upon reading the script. "There was a time when I was still in the military that I shed tears while reading the scenario. I was older than my classmates and I didn't want to show them I was crying. So, I pretended to be asleep while reading the script," he laughed with a tinge of embarrassment.
As he processed and digested his character, he realized that Young Ho is a reminiscent of his younger self. "Unlike the characters from my previous projects, Young Ho reminds me most about my past."
Just like her co-star, Chun Woo Hee felt a strong resemblance between her character and her younger self. "So Hee is a person who has great understanding and consideration for others. Among the characters I have played so far, it seems that her personality is the most similar to mine."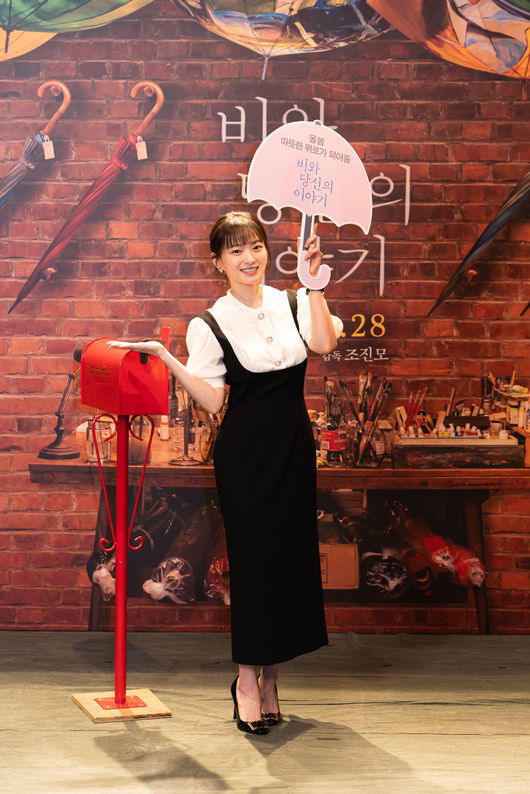 In addition, she expressed her admiration towards her fellow actor, "Kang Ha Neul is an actor who is great in acting. I believe that he was a good fit for the role of Young Ho."
As the story depicts a love that is born out of distance, Chun Woo Hee detailed how they acted their scenes in isolation. "For the most part, I was narrating than acting. Imagining and listening to the narration is very different from performing the scenes myself."
"But I felt that I was able to express what I experienced in my youth by reminiscing. Through narration, the feeling of waiting, which is the main message of the movie, was conveyed."
Rain And Your Story will hit the Korean theaters on April 28.
---
Image Credits: Sony Pictures Korea & Kidari ENT