Netflix
K-Drama
Kim So Hyun, Song Kang & Director Kim Jin Woo Hype Anticipation In "Love Alarm S2" Press Conference
By
|
Scheduled to drop on March 12 on Netflix, the lead stars and director of Love Alarm S2 disclosed a lot more reasons why fans should look forward to its premiere.
Kim So Hyun, Song Kang and Director Kim Jin-woo gave their insights about what to expect in the second season. Jung Ga Ram was not able to attend the event.
---
Greeting the media people earnestly, Kim So Hyun, Song Kang and Director Kim Jin-woo settled to their seats as host Park Kyung-lim steer the press conference as moderator. The female lead of Love Alarm Season 2 expressed gratitude right away for the love they received globally.
Likewise, Song Kang is also surprised to see the comments of clamor for the second season. In particular, his social media following had grown exponentially, and he was thankful for that.
Love Alarm S2 picks up from the events of the first season. It will show the main leads as adults from being students. The Love Alarm app goes for an update which would enable the feature of who is likely to fall in love with you and who you are also likely to fall for.
Director Kim elaborates how the characters are affected by the new and upgraded version of the application. With the version 2.0 app, the decisions of the characters will be impacted based on the information provided by the app.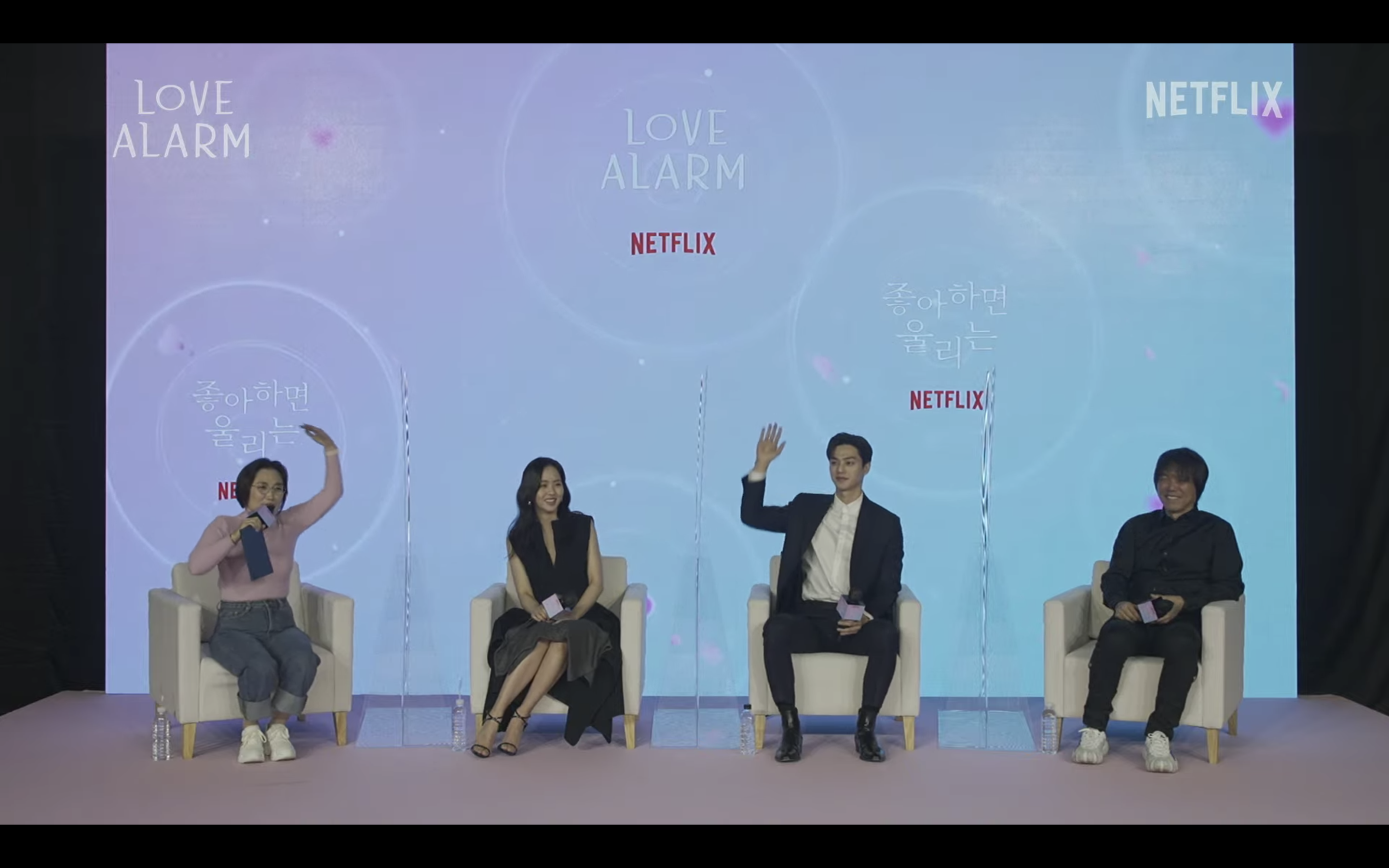 ---
What The Lead Stars Think About Using Love Alarm
When asked about the idea of using the Love Alarm app, Kim So Hyun replied it would be amazing and be curious as well.
"It's amazing that you're able to see who has feelings for you and the function of informing you who you might like or who might like you. That's definitely something to be curious about because you could think those are all potential relationships. But you know your feelings don't remain the same all the time. It changes and you meet new people, so I think it's really amazing and interesting."
Song Kang explains how his character Sun-oh does not ring other people's love alarm, but he gets it all the time.
"While someone's feelings may not be the same and when you have feelings for someone it's always not reciprocated. Unrequited love is bound to be really sad."
---
How Has Jo-jo Changed In Season 2?
Hinting on their characters' growth in Love Alarm Season 2, Kim So Hyun revealed Jo-jo's frustration of using the shield. It led to her growth and development. She also gave an advice to her character to brave the tough life and to be always happy.
"Jo-jo is a character who used to be very defensive. She was wary about her feelings being exposed to others. She was afraid of other people knowing how she truly felt, which leads her to use the shield function on the love alarm app so that no one knows how she actually feels. JoJo doesn't know how she feels as well because her feelings are guarded to herself."
In response to the question if she felt compelled to hide her feelings, the actress realistically answered that she has gone through those moments.
"Sometimes I'm very good at hiding my feelings but sometimes I'm very bad at it. Especially when I'm having a hard time I tried to hide it so that people would not worry about it. So in those moments. I feel like I would like the shield. I would like to use the shield," Kim So Hyun said.
---
Sun-oh's Emotional Turmoil
Describing where his character Sun-oh heads on Love Alarm Season 2, Song Kang shared how devastated Sun-oh was after breaking up with Jo-jo. He hints how he will change from pure and youthful to being mature.
Song Kang confirms he shed a lot of tears, he relayed how the the conflicts in season 1 evolved to him overcoming challenges. Adorably quipping his thoughts on Sun-oh's emotional moments, he gave his character an advice.
"Sun-oh, I think I shed more tears than I shed in my entire life while I was acting you, but please know that I'm always by your side."
---
Director Kim Jin-woo's Proud Moments About The Series
Working with a talented cast, Director Kim revealed amazement on Kim So Hyun's grasp of her character especially Jo-jo's confused emotions. Correspondingly, Song Kang's Sun-oh he remarked, was the character who grew immensely.
Despite newly-joining the production team, the director settled easily because of the great chemistry at the set. Confessing he did not want to bring disorder to the superb energy of the team, he was anxious to maximize the effort of the actors.
He also disclosed how he made the second season different from the first season.
"I knew that in the first season, the characters were very vivid. In the second season, I wanted to portray what kind of decisions these characters will make. And I wanted to portray that process while being as loyal as possible to each of the characters personalities that were well established during the first season. I think that's the differentiating factor for the second season. And I think that is exactly what all of the fans worldwide want to know, most what choices will the characters make so we should look forward to that."
---
On Season 2's Highlights and If The Lead Stars Will Use The Love Alarm
Hinting on a key point to the series, Kim So Hyun divulged how the update to Love Alarm would be a defining factor propelling the plot twist. Adding to that, Song Kang conveyed how the conflicts among the characters will be resolved are also key highlights. Director Kim asserted on how the characters' decisions to be crucial moments to be anticipated.
Coaxed to answer if they willing to download the app, or would they rather express their feelings on their own, the main leads made sound answers.
"As you've seen a little bit in the trailer, my choices unintentionally ended up hurting Hye-young and Sun-oh. So, that was very difficult. So for me, I think I would prefer to express my feelings with my own words, rather than using the app," Kim So Hyun said.
Similarly, Song Kang had the same idea, "For me, I also don't think I would download the app. The app is convenient because you don't have to express your feelings. But I think that delivering your feelings in your own words of confessing your emotions by yourself as is more true."
---
Kim So Hyun: "I want to be an authentic actress."
Having worked for a variety of dramas, Kim So Hyun was asked about the biggest appeal of Love Alarm and what sets it apart from her previous roles.
"It had to be the excitement of a new challenge. Because Jo-jo is now a university student, there's that unique sense of emotions that come along with starting college and becoming adult."
She also relayed what she learned as an actress and as a person while playing the role of Jo-jo.
"Jo-jo was put into a position where she had to make a difficult decision. And she had to obviously meet the consequences and be responsible for the choices, she makes. I think through portraying the character Jo-jo, I was once again reminded of the consequences that follow your decisions in life. And I think as an actress. I learned how to be more detailed, how to be more subtle. In, portraying the excitement, the heart flutters, as, as well as the sense of fear. You know there are many situations in your early 20s that you are put into or you feel fear and excitement. So that's something I learned as an actress."
Picking a title befitting her goal, Kim So Hyun remarked wanting to be known as an authentic actress. Someone who is genuine and real.
"I think whatever way people may describe me or whatever nicknames people might give me all of that is an expression of love. So, I'm always happy and very grateful to hear that."
---
Netflix's Son: Song Kang
Rising to prominence, the actor has starred in notable projects pushing his popularity. When asked about how he picks his project, he answered soundly. He also pledged to show you new and different sides of him in the future.
"When I am considering scenarios. I try to find the ones that are entertaining first from the audience's viewpoint and ones that are meaningful."
Dubbed as Netflix's son for starring in a few original series, the actor has only thankful words to Netflix. His goal is also to be someone deserving of the title, "actor". Hence, he focuses on constantly trying to portray and express different emotions.
"I'm grateful to be called "son of Netflix". I want to pay it back and hope to be called a real actor. Working with Netflix is an honor and joy. I'm happy to work with them."
As the media conference come to an end, the stars and director again invited the viewers and fans to the launch date of Love Alarm Season 2.
Don't miss the series premiere on March 12 on Netflix!
---
Hellokpop thanks Netflix to the media invite to Love Alarm S2 Media Conference
Event Covered by abbyinhallyuland
All photos/video courtesy of Netflix