Starship Entertainment
Featured
#6YearsWithMONSTAX: MONSTA X Greets MONBEBE With A 6th Anniversary Celebration Through VLive
By
|
Happy 6th anniversary, MONSTA X!
MONSTA X and MONBEBE shared another meaningful time through a special VLive broadcast celebrating the group's 6th anniversary.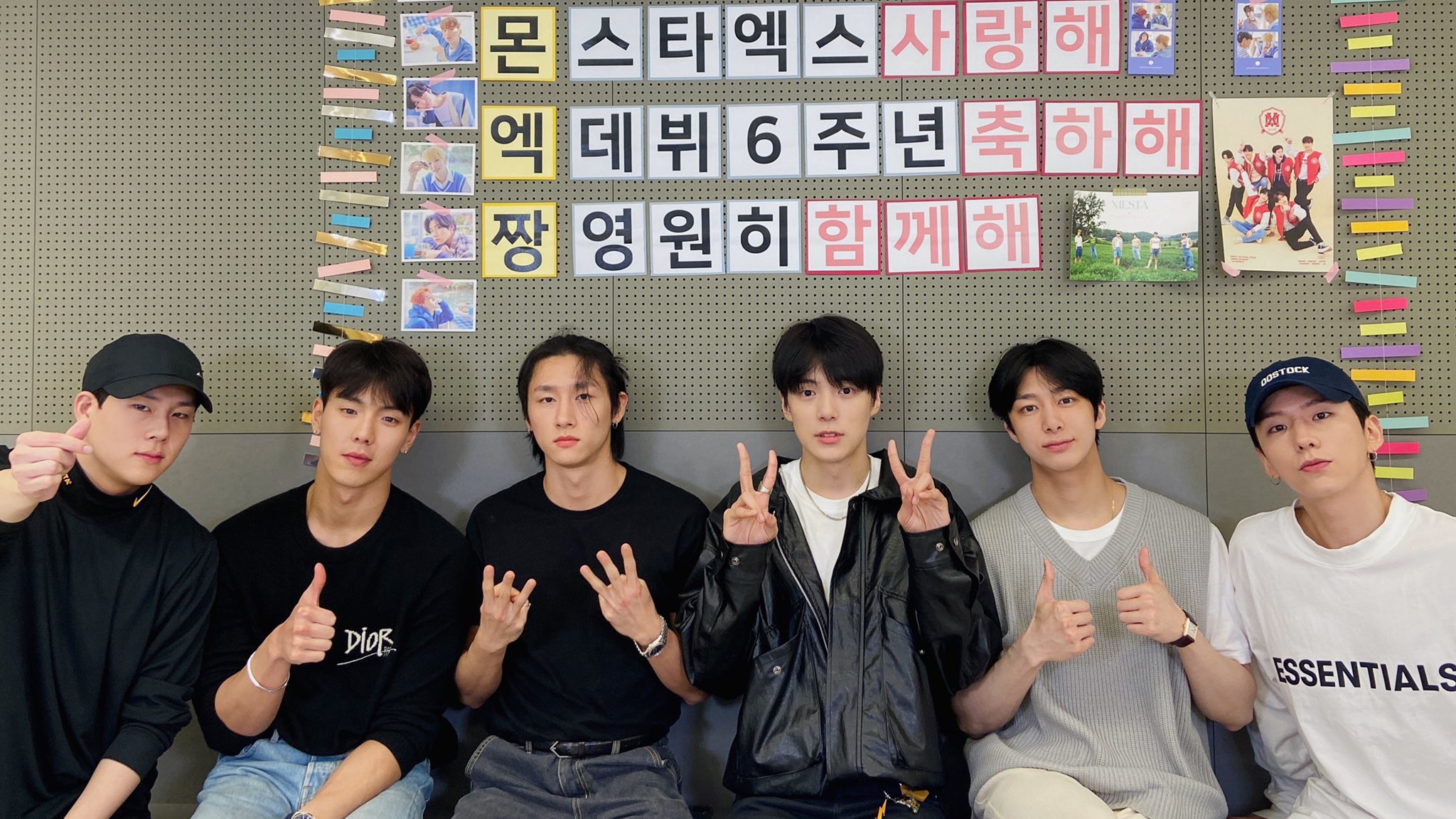 Greeting fans hours before the anniversary day itself, the loving boys of MONSTA X expressed their feelings about their 6th year as a Level A+++ artist. "We prepared a small party for the 6th anniversary," the members said as they lit the cake to sing a congratulatory song. Then, one by one, the members delivered a sincere message to MONBEBE on this happy day.
Starting off, Joohoney thanked fans with a touching comment. "I want to congratulate us on the 6th anniversary. It's been so long yet it still feels new and unreal. I want to say to our members that they worked hard and you all are doing great."
The group's leader Shownu, who recently went for surgery after the diagnosis of "Left Eye Retinal Detachment," assured fans that he is fine and healthy. After deciding to not participate in the group's album promotions, many MONBEBE extended their worry about the trustworthy dancing machine. "I went to the hospital and they said I've improved a lot," Shownu said.
Consecutively, the youngest I.M briefly reminisced the countless memories from the past 6 years. "I won't be distressed so I can give back the love MONBEBE has given me."
Then, the sunshine Minhyuk confidently showed himself to the camera, conveying his emotions with this important day. "I'm now a singer for 6-7 years and I have so many memories. There are a lot of things so I can't enumerate them all. But I hope we can continue to be together for a long time."
Expressing his sincere joy, the face genius Hyungwon acknowledged that it has been a long time since they greeted fans as a whole group. "I hope we have a fun time today even if it's for a short time," he finished.
On the other hand, Kihyun carefully spoke about the news of his return on May 12 from a personal schedule with I.M. The two members were seen at Gimpo International Airport on their way back from Jeju Island, which apparently angered some fans. "Even though there is still a day left until the 6th year, congratulations. And I want to thank MONBEBE and also to the members, I'm sorry."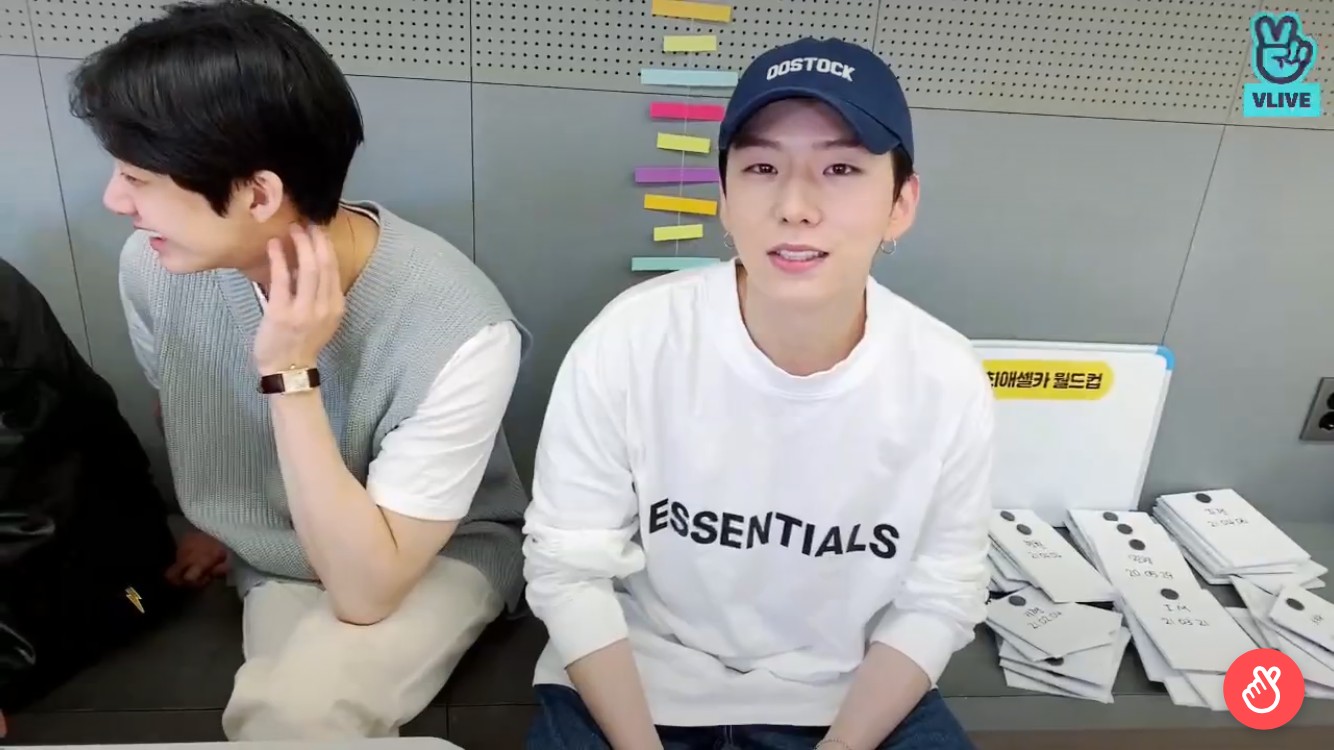 Briefly interrupting his message, the members continuously empathized with the group's skillful photographer, telling him that there's nothing to apologize for. "Actually, I saw many letters at the fancafe until dawn and have thought about lots of things. I wanted to speak about it through writing. But I think it would be better to say these in words," he continued. "I'm sorry that I wasn't able to understand MONBEBE's feelings on such a good day like this. I don't think it will ever be enough to return all the love I have received."
Selca World Cup, Balance Game, And More
After Hyungwon distributed the plates and utensils, Minhyuk took a slice then wittily gave the rest of the cake to Shownu.
Right after, the members went straight to the prepared corners wherein MONBEBE actively participated during the past few days.
The "Best Selca World Cup" let the members choose their best selca out of the many posted on MONSTA X's official Twitter account from January 1, 2020 until April 30, 2021. After a couple of the members' suspicions with the other's choices from here and there, the "Best Selca World Cup" ended on a peaceful note. Minhyuk then arranged them properly, showing off the members' best selcas.
Followed by the topic which made every MONBEBE curious with the results, the members revealed fans' clear preferences regarding their title tracks from the past 6 years. Specifically, fans were asked to choose what title track they would like MONSTA X to have a comeback with again. As soon as the results were unveiled, the members expressed their agreement with the songs which fans wanted to witness once more.
1st – Jealousy
2nd – DRAMARAMA
3rd – Shoot Out
4th – Follow
Further, the next topic unfolded what title track do MONBEBE liked the outfits the most. Ranking fifth place, the members tried to remember their stage outfits with "DRAMARAMA"—the song that gave the group its first music show win. Followed by "Love Killa" at fourth place, which was their latest Korean title track under the 3rd full album FATAL LOVE.
Continuing the members' walk down memory lane, "Shoot Out" ranked third. Expressing his honest thoughts, Minhyuk said it was hard and embarrassing to wear the "Shoot Out" outfit while going to the restroom but nonetheless, it was pretty and he liked it. The second place which MONBEBE liked the stage outfits the most was "Jealousy," in which the members wore lots of chains during promotions. Consecutively, "Follow" ranked first, making the members agree as it became a huge talk especially their stages wherein they wear hanbok.
Next, the members found out what dance choreography did MONBEBE liked the most out of their many awesome title tracks. After debating for a while, it was revealed that fans loved the "Shoot Out" choreography the most. Minhyuk and Kihyun also agreed as it was included at MMTG's "컴눈명" episode wherein they tackle the songs that should have a comeback again. "It was chosen because of the 'vibration mode dance' where Shownu was at the center."
Moving forward to another corner, the members picked five "Balance Game" questions submitted by fans through Twitter. The members then let off some spoilers with the songs in their tracklist. And amid enthusiastic responses from global fans, the adorable sextet believed that MONBEBE will like the tracklist once it was released. "It was so fun to spend time together. The song is greater this time so please listen to it a lot and look forward to it. We love you, MONBEBE."
Ending the broadcast, each member expressed their happiness and gratitude for the sweetest 6 years with MONBEBE. They highlighted the release of the 9th mini-album One Of A Kind on June 1 and asked for fans' love and support all throughout the album promotions.
Meanwhile, a 6th-anniversary message video clip was released on 12MN, right in time for MONSTA X's 6th year.
Debuted on May 14, 2015 with an energetic title track "Trespass," MONSTA X took its first step in the music industry with an aim to represent K-pop with unprecedented concepts. Throughout these kind boys' journey to the top, they were able to steadily grow their musical spectrum, continuing to play step-by-step into establishing themselves as global icons.
Furthermore, MONSTA X will return onstage with a delightful treat, bringing in another set of tracks that will definitely land a high spot on every MONBEBE's playlist. Unfortunately, Shownu won't be able to participate in the album's promotions due to his current health condition.
---
PR and Image Source: Starship Entertainment
How does this story make you feel?