Starship Entertainment
Featured
K-Pop Debut Spotlight: MONSTA X's I.M Shows Off His Majestic Charms In Solo Digital Album "DUALITY"
By
|
I.M arrives with a fierce confession while unraveling the duality of a person through his first solo digital album!
MONSTA X's I.M really ain't here to fool around as he releases a total of five absolute gems for his first solo digital album DUALITY. Along the release of his digital album was the fiery music video for the title track "God Damn".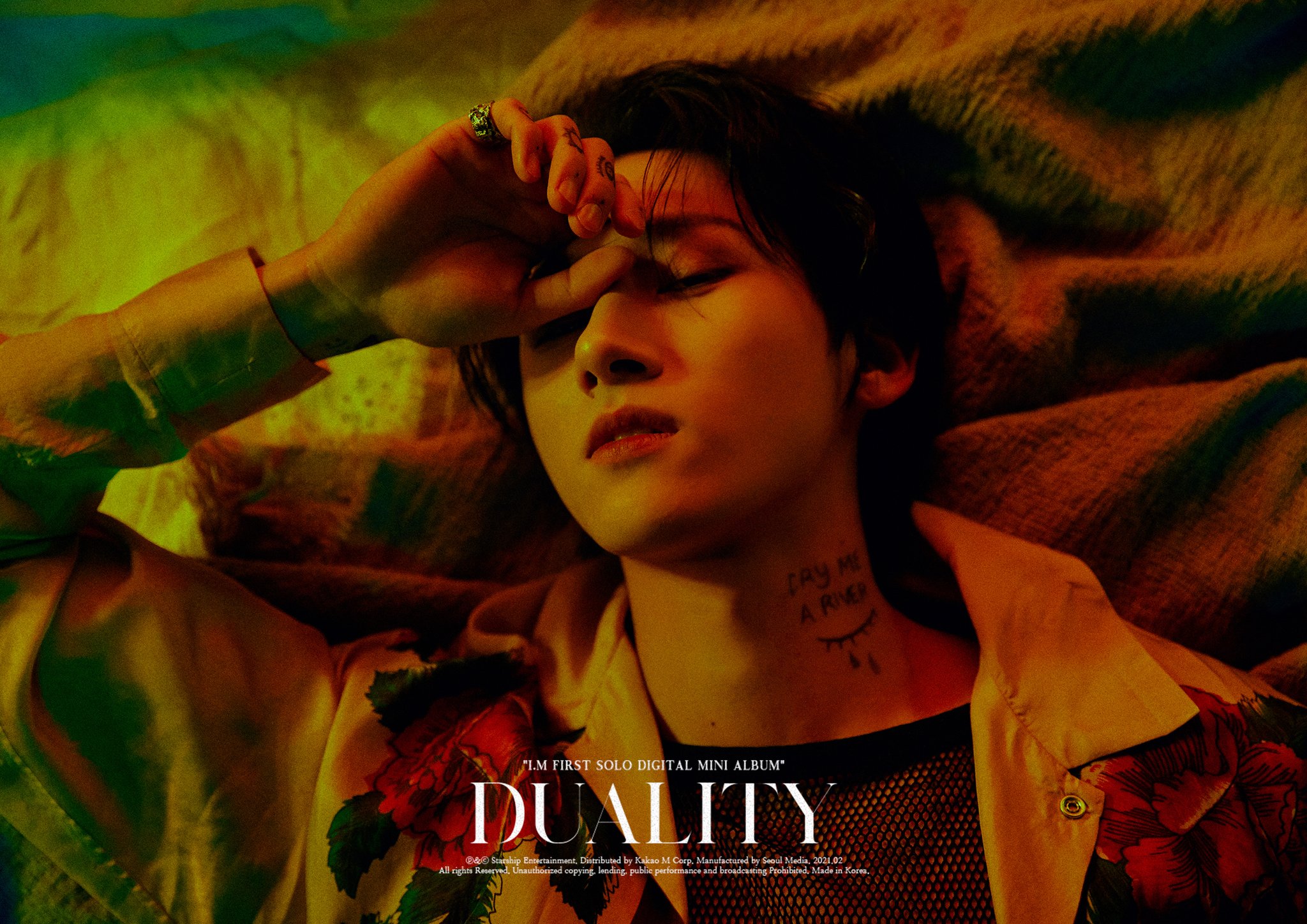 ---
DUALITY Debut Timeline
Kicking off the start of anticipation, Starship Entertainment had already confirmed as early as January 20 that MONSTA X's seasoned youngest will be spreading his wings this 2021 with a solo release.
Reaffirming his unique color in various content before the official release, I.M excited MONBEBE with a schedule poster on February 8. Particularly, the schedule poster is set in a mixed pink and violet tone overall with a strong picturesque of a hand holding an oxygen respirator.
Followed by a boost of excitement from fans, a dynamic tracklist for his solo digital mini-album was then released on February 10. To simply describe the phenomenal tracklist, the word "I.M" would fit it the best as MONSTA X's youngest actively showcased his artistry this time-by taking part in composing all the songs in the album, and even writing the lyrics for each of the tracks.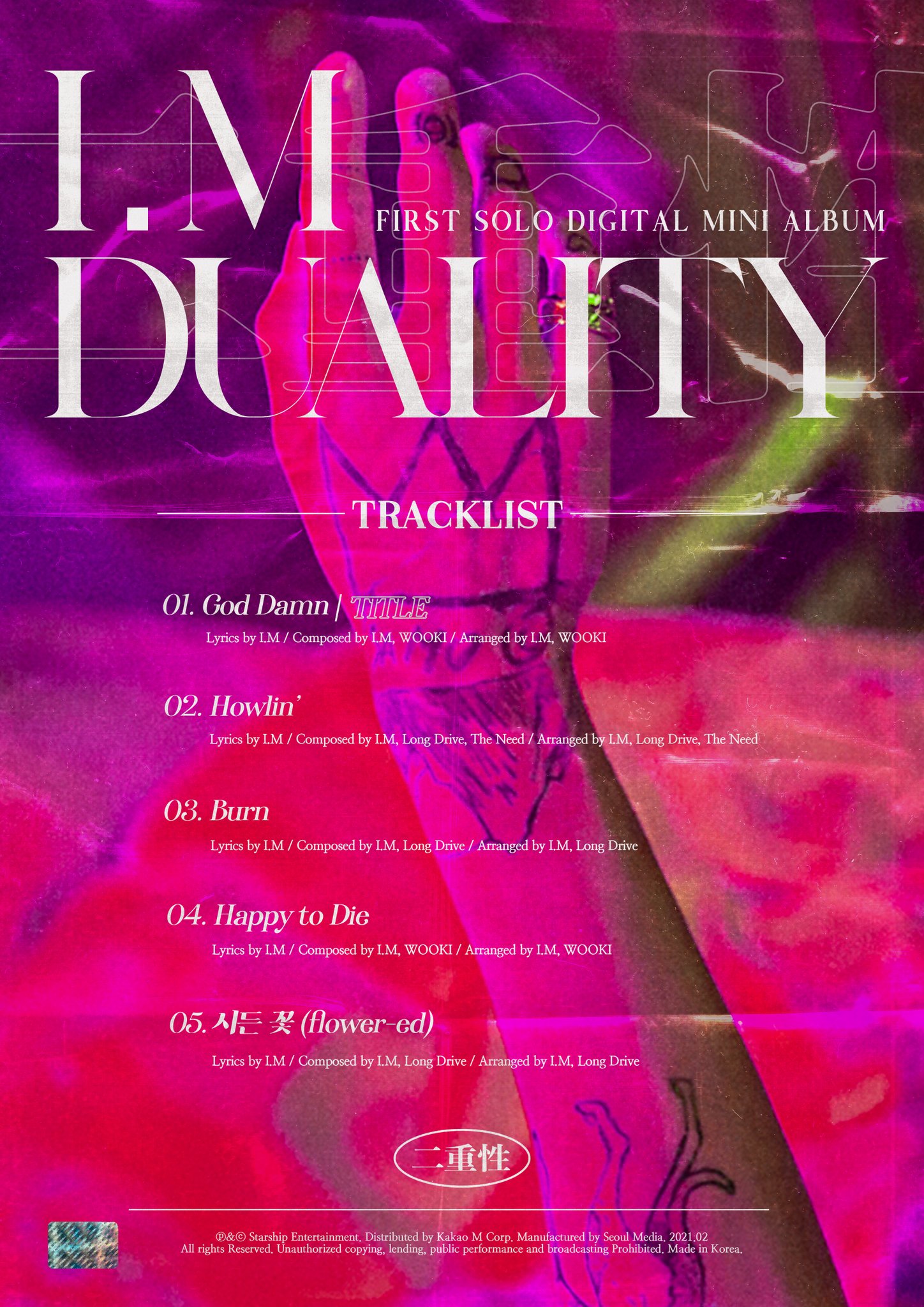 From February 14 until 15, I.M showcased his unique sexy aura as he proudly revealed his unexpected mature charms in show-stopping concept photos. I.M's visuals look mysterious in the first set of concept photos that visibly featured his lethal side as MONSTA X's charismatic maknae rapper.
Thereafter, the second set of photos released on February 15 scream regality and undeniable magnificence as I.M looks down at the camera with his ever dreamy eyes. The smokey makeup made his dark eyes deeper, and the intense outfit styling and tattoos doubled his unique atmosphere.
Rounding up the anticipation, a music video teaser that expressed his sensual duality was released on February 17. At the start of the video, I.M lies on the bed in a room, showing off his own decadent beauty by raising the immersion of viewers in several shots and postures.
With only a day left before the album's official digital release, an album preview was then revealed on February 18, teasing with the highlight parts of the five tracks in the DUALITY album.
The album preview also showed I.M going into the room in a tired look, wandering alone around the area with a strong impression. Additionally, each song captured fans' attention and some even claimed their own bops to anticipate for other than the title track.
---
DUALITY Album Impressions
Described as a hip-hop track conveying the feeling of pretending to be happy even though it is the complete opposite, the title track "God Damn" clearly offers I.M's charming low-pitched rap while having a trendy sound that highlighted the song's melody and the emotional lyrics. Additionally, I.M proved he is a genius as he maximized the meaning of "God Damn" by using witty lyrics and realistic daily life struggles of a person in love.
"Howlin'" is a track that sings about emotional ups and downs. The song amazingly captures I.M's charisma as a rapper, especially with his captivating voice that allures anyone who will listen to it.
On the other hand, "Burn" is about not being tied down to whatever happened in the past and having the courage to forget about it.
"Happy to Die" conveys a story of happiness that a person can find in every moment and realizing that it could be someone's last. Conveying a message of comfort and understanding, "flower-ed" is a clever resemblance of a withered flower to a piece of poetry that someone had sent to a person he had used to love.
Overall, DUALITY is centered around a melody that highlights a trendy sound and emotional lyrics about I.M's plans to tell the story of his inner self.
---
"God Damn" MV Afterthoughts
Astonishingly, MONSTA X's I.M's first solo digital mini-album DUALITY is a metaphorical cover of his fierce inner confession as he honestly unraveled the duality of the inside and the outside of a person. The whole album, we can say, is about I.M's story in a different music world apart from his image in MONSTA X.
The aesthetics of the music video is exemplary, to say the least. Not to mention I.M's impressive acting, the music video all in all is truly immersive.
All throughout those three minutes and 30 seconds, it really is impossible to have a moment to take your attention away from the video because every single millisecond is worth it! Honestly, I.M's voice alone is already pleasing but the complexity with the song's arrangements plus the appealing visuals of the MV makes it superlative, and we're definitely here for everything.
In conclusion, DUALITY deserves lots of awards and it's a shame that this is only a digital album!
---
Video and Image Source: Starship Entertainment