K-Drama
"Bulgasal: Immortal Souls" Briefs Viewers With Its Main Characters
By
|
tvN's upcoming weekend drama, Bulgasal: Immortal Souls, has unveiled its official poster!
Bulgasal: Immortal Souls tells the poignant and stunning story of a man who has become immortal and pursues a woman in her reincarnations for 600 years.
Lee Jin Wook, Kwon Na Ra, Lee Joon, and Gong Seung Yeon decorate the main cast. 
Transforming into a Bulgasal – a mythical creature that feeds on human blood and is condemned to live forever, Lee Jin Wook portrays Dan Hwal. On the other hand, Min Sang-woon, played by Kwon Nara, was once a Bulgasal but got the chance to be reincarnated as a human. She has had multiple reincarnations for 600 years and can recollect all of them.
Suiting up as Ok Eul Tae, another Bulgasal in hiding is Lee Joon.  He has profited from immorality for generations, which he uses to exert control over politicians, businessmen, and the media. Lastly, Gong Seung Yoon portrays Dan Sol, the daughter of a powerful family who married Dan Hwal in the past due to her father's influence. 
Ahead of the first broadcast on December 18, posters and videos have been rolled out heightening viewers' anticipation.
Today, the seven-character poster was unveiled featuring the main cast. It hints at different time periods to be traversed in the series. At the center of the poster is Dan-hwal who piques interest in his pursuit of a woman for a long time. His forlorn-looking eyes match Min Sang-woon's unfathomable gaze.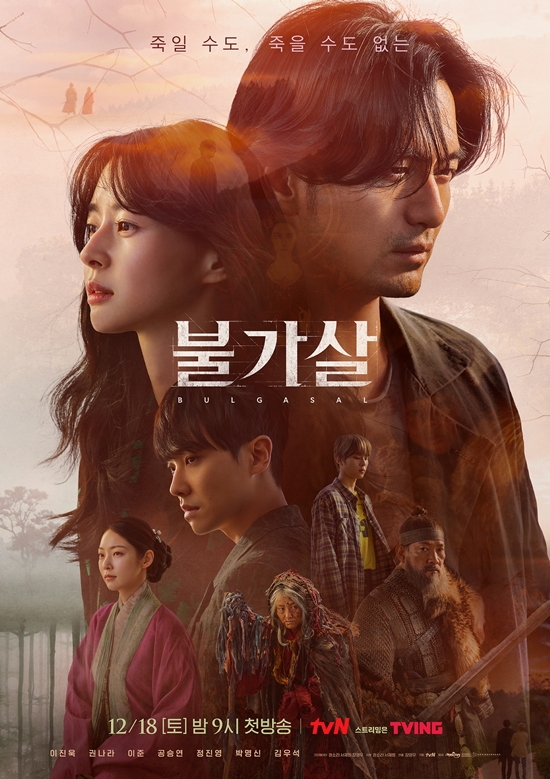 Meanwhile, Ok Eul-tae, a bigshot affluent man who strongly supports politicians doubles the tension with his cold-blooded eyes. it raises curiosity about his veiled identity.
Likewise, Dansol, the wife of Danhwal 600 years ago, garners attention. She has abilities that others cannot understand and looks immersed in sorrow while wearing a beautiful hanbok.
Dansol's father, Dangeuk, radiates solemn charisma while holding a sword in huge armor. Wearing modern clothing, Nam Do Yoon aligns his somber demeanor in the picture. Lastly, the presence of a gentle shaman who can see through fate and secrets in the future also hypes the fantasy appeal of Bulgasal.
In addition, cryptic shadowed images overlap the seven characters. As if connecting Dan Hwal and Sang-woon the pictures of two people revealing their backs and a child generate interest.  As such, there is much anticipation about what kind of story and fate the seven people will share in the story spanning 600 years.
Bulgasal: Immortal Souls will premiere on December 18 at 9 PM KST. International viewers can stream it on Netflix. 
---
Source: xportsnews | Photos/Videos: tvN