PLEDIS Entertainment
K-Pop
NU'EST Wins Second Music Show Trophy For "INSIDE OUT"
By
|
What a joyful way to end April and welcome May! Congratulations NU'EST and ㄴㅇㅅㅌs!
NU'EST gets second music show win for "INSIDE OUT," defeating Brave Girls' "Rollin'" at Music Bank's April 30th episode.
Performing its comeback stage on the same day, NU'EST receives the No.1 trophy on KBS2 TV's Music Bank with a total score of 5446.
Following the reversal group's first win in Mnet's M Countdown on Tuesday, all members brought in big pieces of red paper and scissors. As their pledge, NU'EST said they will cut out hearts to show their love to fans.
Throughout the encore stage, the members tried their best to sing live while figuring out how they can make hearts. Aron, on the other hand, was seriously doing his best, making Baekho sing his part instead. Right after, the LA-born idol proudly presented his heart cut-out on camera, looking at the members' progress.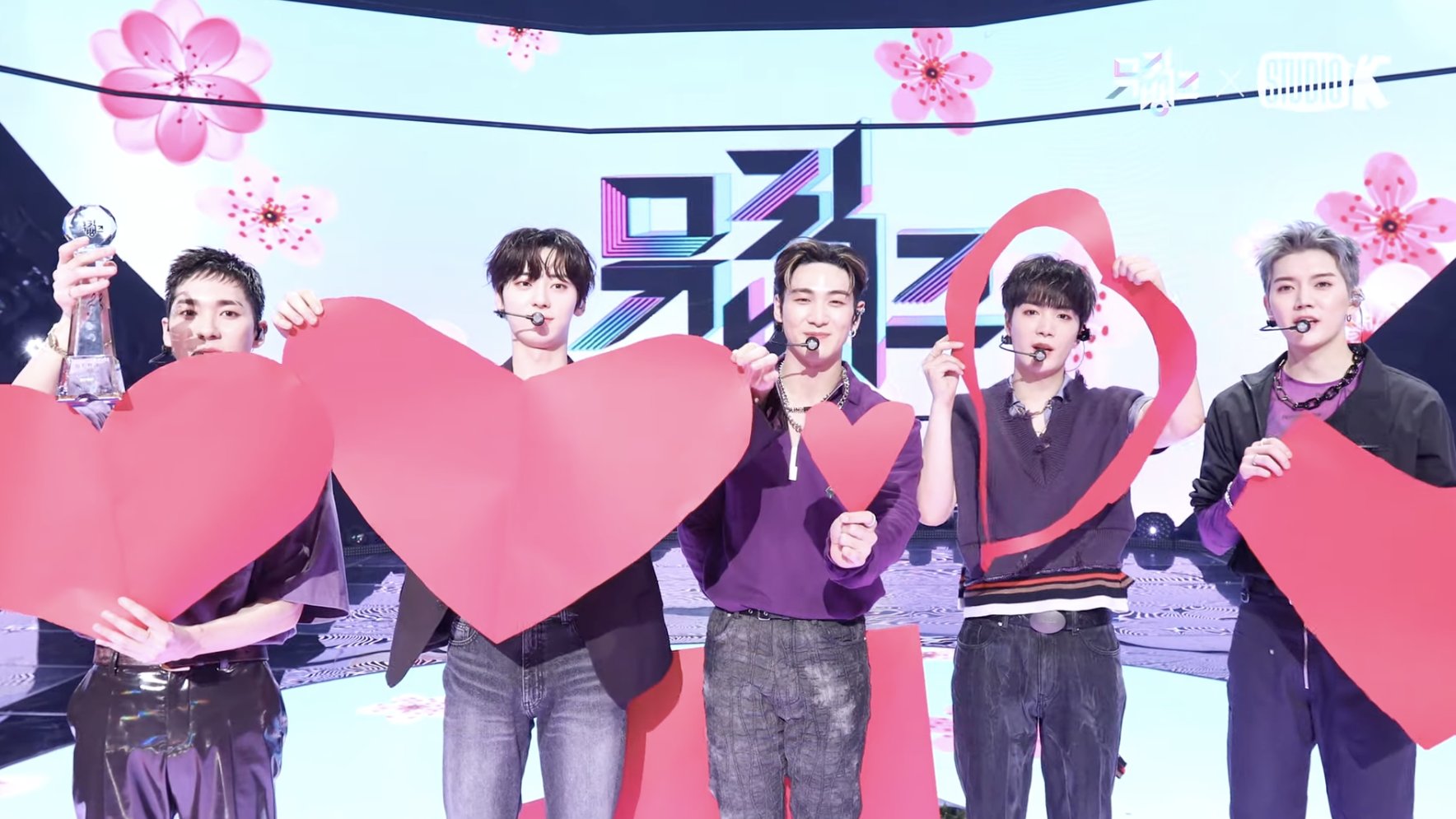 Not long after, Minhyun showed off his heart cut-out while handsomely singing his part in the chorus. Exactly on time for the rap part, JR walks to the camera to boast his completed cut-out. Behind the heart, JR's adorable smiling face was visible, making fans' hearts melt seeing the leader's unexpected shower of cuteness.
Endearingly, Ren's heart cut-out looked as unique as the JAMIE star's cheerful personality. While Baekho's heart cut-out was a mini version compared to the main vocalist's bold and charismatic appearance.
Altogether, NU'EST excitedly sang the hook of the chorus as they dance in between cheers. And as the song nears its end, the camera pans to JR who was busy making another heart cut-out.
NU'EST then ended the song in wonderful laughter, repeatedly bowing in gratitude for the second music show win with "INSIDE OUT."
Meanwhile, NU'EST will continue promotions for the 2nd full album Romanticize and the title track "INSIDE OUT" in various variety shows. Earlier, Baekho and Minhyun appeared on DIVE Studios' K-Pop Daebak hosted by Eric Nam. Furthermore, lots of special content and music show performances await fans as NU'EST still got lots in store for the 2nd full album's promotions.
---
Source: Newsen