2 Days 1 Night Screencap
Featured
Kim Seon Ho "2 Days 1 Night" Moments Proving He's Worth The "Prince Dimple" We Adorably Love
By
|
Amassing over half a million Instagram followers after Start-Up premiere, new fans of Kim Seon Ho should give time to watch his adorkable self in 2 Days 1 Night!
Admirably, in the last four years, Kim Seon Ho climbed his way to small, supporting and main roles in 11 dramas. An achievement considered remarkable for an actor.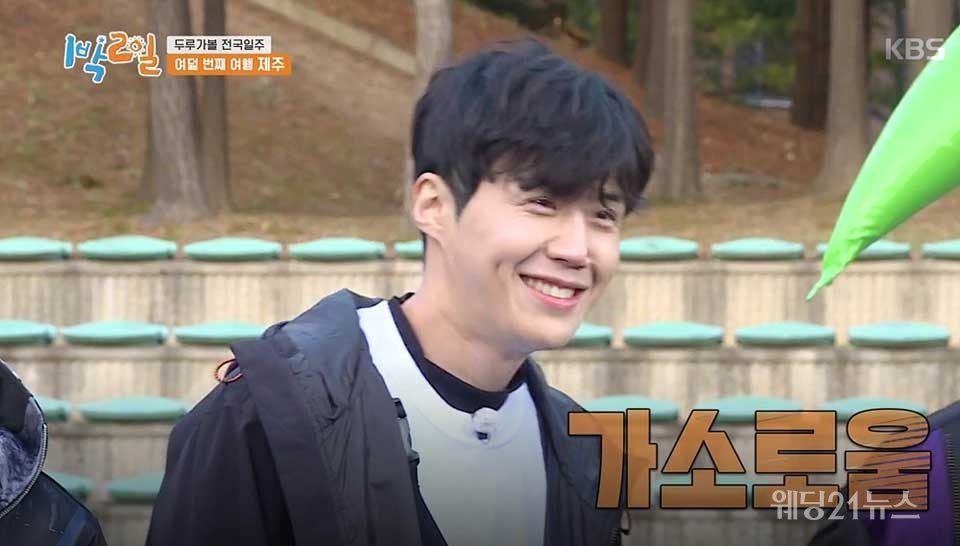 Innately blessed with an impeccable comic timing and character ownership, his skills were visible in his early dramas Good Manager, Two Cops and 100 Days My Prince. His roles in Welcome to Waikiki 2 and Catch the Ghost further validated his versatility in switching roles that leaves lasting imprint.
His character in Start-Up is a cut different from his previous portrayals, but his striking immersion keeps impressing the viewers. We sure love how he has been Grandma Choi's "good boy" and a blunt mentor to Do-san. Notably, his online presence grows day by day. From 600K followers before Start-Up premiered, it ballooned to over a million followers and counting on Instagram.
While fans rave for Prince Dimple as Investment Manager Han Ji-pyeong, here are Kim Seon Ho adorable moments in 2 Days 1 Night to make your day even brighter! And yes, push you to watch him there, too. *wink
---
Lucky Dimpled Coffee Prince
Overflowing with luck, Seon-ho made a history in 2 Days 1 Night for getting five-straight coffee in the famed bok-bul-bok game of the show. He was able to escape the ill fate of drinking the infamously concocted fish sauce.
He also knows how to kick jegi well, a skill that will come in handy as one of the recurring quick games in 2D1N. Check out his winning moment at 4:44 mark of the video.
---
First Taste of Variety Show Cruelty
Loved for his being clueless in the show as variety show newbie, Seon-ho got his first taste of variety show cruelty in the early onset of season 4. His literal passing to stages of dont-take-the-food-grief to PD Smiley was such a delightful watch.
---
Dancing Paper Doll Seon-ho
Definitely deserving of A+ for the effort and entertainment value. But hey, he scored two points for the team. Check out his awkward dance moves at 4:45 and 7:18 marks of the video.
---
Seon-ho's Epic But Truly Entertaining Fails on 2 Days 1 Night Games
Season 4 of 2 Days 1 Night has truly blended members who are all loved by fans for their silliness and antics. Being new to the entertainment show scene, he has shining moments, but hilarious ones as well.
Check out this "the stone that flew away" scene on 5:24 mark when he just promised that he will seal the game for Team Actors.
---
Queen Seonho
Beautiful as a flower, his Queen Seonho moment at 4:38 mark of the video will also put a smile on your face.
---
Eel Bromance
At 4:35 mark, every fans of Kim Seon Ho probably wished to be DinDin or the eel in this scene. *blush
But the two often childishly bicker as well, in a cute way.
---
Emotional Actor Seonho
Paying homage to Kwon Sang Woo's famed character, he captured the famous hermit crab meme.
---
Changed Seonho
Over time, he has adapted well to the show and knows that always being nice won't give him food.
While the team members are busy naming flowers to get food, he kept confusing them.
He has also reached the point of understanding how his hyungs think and strategize and betrayed them accordingly to get food.
---
Swoon-worthy Moments especially for Seon-ho lady fans
Wet-look Seon-ho
Forced to dunk in the waters, his clumsy side kept him fumbling in the stream as the members cheer for him.
News Anchor Seon Ho
Watching news with a handsome anchor is not something unheard of, but seeing Seon Ho suits up as a news reporter would really give encouragement to audience. Not to mention, complete focus on the news.
---
Born to be on variety show TV
Without trying to be funny Kim Seon Ho easily makes followers of the show crack up. Like the scene when he had to receive a massage.
And when he funnily belted out iconic karaoke song, Confession, complete with Yim Jaebum impersonation.
Who would forget how he loved playing charades with the members?
And how he adorably declared his unique talent…
Catching up on more Kim Seon Ho moments on 2 Days 1 Night can be your perfect holiday binge-watch plan!
Check out more of his best variety rookie moments below.
---
Photos/Videos: 2 Days 1 Night YouTube