Starship Entertainment
K-Pop
MONSTA X Features Elegance In First Set Of Concept Photos For 9th Mini-Album "One Of A Kind"
By
|
Life is a gamble, so is betting on MONSTA X's wonderful visuals!
#몬스타엑스 #MONSTAX #MONSTA_X #One_Of_A_Kind #CONCEPT_PHOTO #Shownu #Minhyuk #Kihyun #Hyungwon #Jooheon #IM
All MONBEBE's nights were definitely blessed with the first set of concept photos from MONSTA X!
On May 18, MONSTA X showed off its endearing visuals in a total of 18 photos for the 9th mini-album One Of A Kind. The photos featured individual member shots and unit photos, heightening the excitement from global fans.
When the clock struck 10PM KST, Shownu's alluring photos arrived, boasting the leader's flawless facial features. A moment after approached Minhyuk's individual snaps, featuring the sunshine's bold stare behind a crowded grandiose table.
Further into the much-awaited hour, the unit photos for these "Have A Good Night" singers amplified anticipation from fans towards the next set of photos from the other members.
The night was followed immediately by Kihyun's astonishing shots, showing off the main vocalist's perfect jawline. Looking fierce in his smoky eye makeup, Joohoney proved he is top of the tops holding a champagne glass with pearls in it.
This one-of-a-kind "You And I" duo then flaunted their awe-stricken visuals back-to-back with an elegant cheer.
Consecutively, Hyungwon's snapshots showed the essence of neat styling that visibly displayed his exemplary handsomeness. The youngest I.M's photos were bold and charismatic, as well with him atop the table in front of some chess pieces.
Creating a sophisticated mood, Hyungwon and I.M's unit photos exhibited an accurate interpretation of a boy group's splendor.
All throughout the first set of concept photos, the sextet paraded a luxurious character in black hair, black suits, and white shirts. The props and background decorations also added a suave to the concept that MONSTA X wanted to create. Overall, each of the member's overwhelming charisma, ranging from intense eye contact to relaxed facial expressions blended well until the unit cuts.
Accurately, MONSTA X once again stole global MONBEBE's hearts with this first set of concept photos. Following closely, three more concept versions will be revealed until May 24. While another concept photo will be released to the public on May 25, which is expected to feature various visual changes, raising anticipation further for this comeback.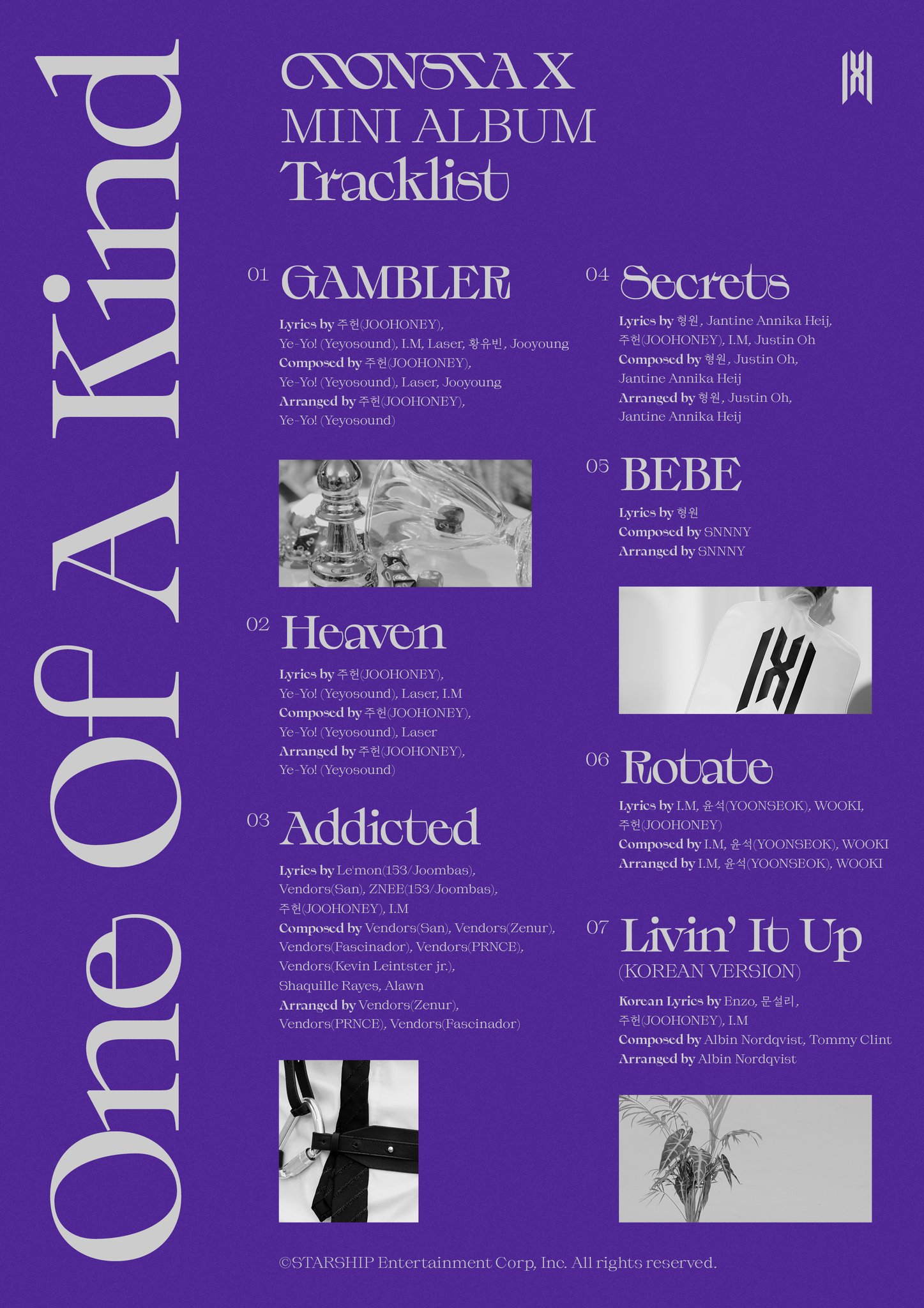 Meanwhile, MONSTA X will return with the 9th mini-album One Of A Kind after about seven months, with the third full album Fatal Love. As the tracklist was earlier revealed, increased attention was focused on the members' musical capabilities by participating in the writing and composition of some tracks in the album. Additionally, this is a major break for the main rapper Joohoney as his beloved song "GAMBLER" headlines the album as the title track.
MONSTA X's 9th mini-album One Of A Kind will be released on various music sites on June 1 at 6PM KST.
---
PR and Image Source: Starship Entertainment