Starship Entertainment
K-Pop
MONSTA X Surprises With Comeback Date For 9th Mini-Album "One Of A Kind"
By
|
MONSTA X is bringing up the game once more with a fantastic comeback ready to snatch MONBEBE's hearts!
MONSTA X drops exciting coming soon poster revealing the comeback date for the 7th mini-album One Of A Kind.
Announced on May 1, the six irresistible young men of MONSTA X will release its 7th mini-album One Of A Kind on June 1. Once again bringing MONBEBE to reverie after the third full album FATAL LOVE, this return will mark yet another history for the record-breaking boy group.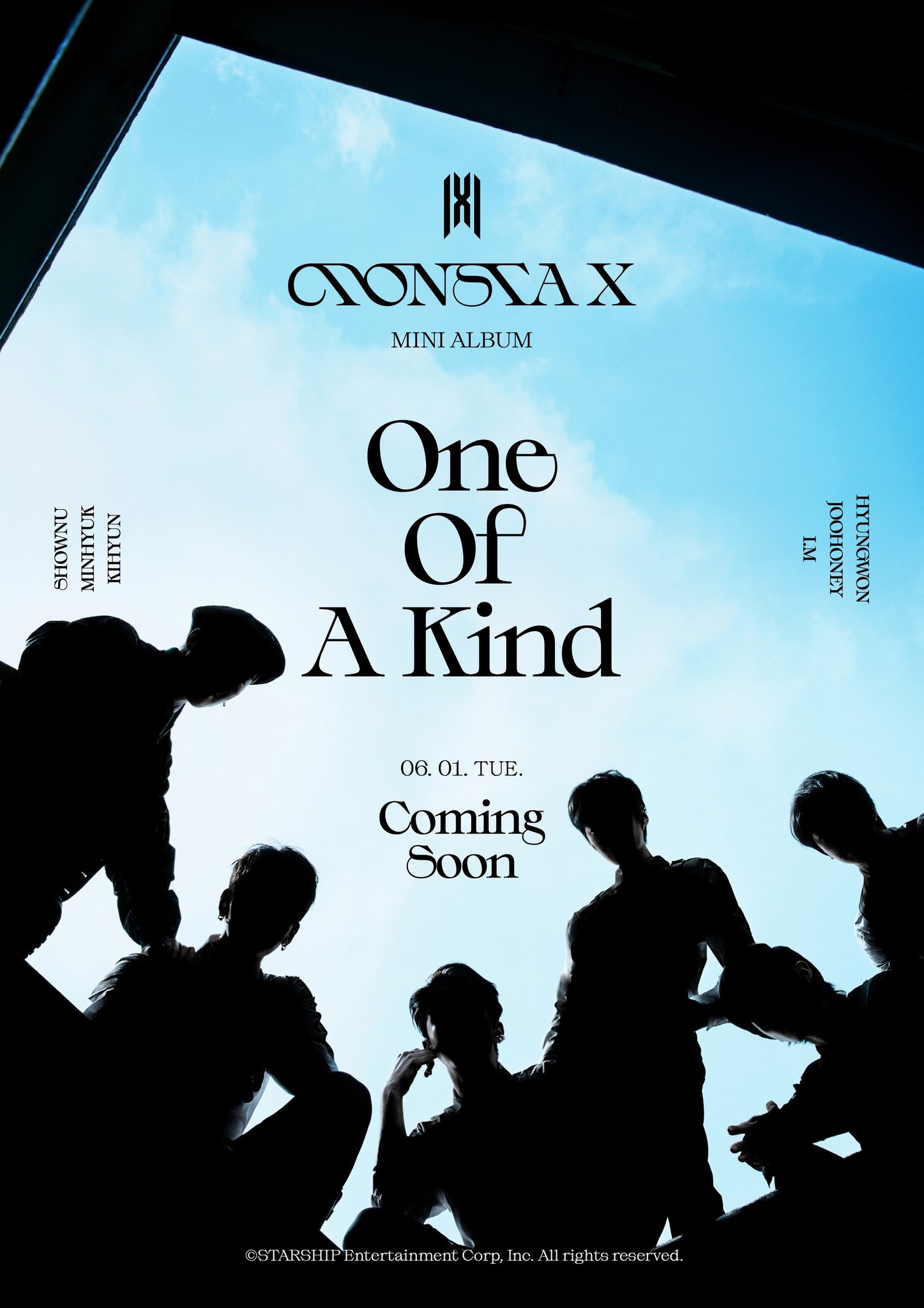 Featuring a light sky background with the members' mysterious silhouettes looking down, the coming soon poster shrouded curiosity as to what concept MONSTA X has prepared this time.
Snatching the hearts of many, the talented boys showed off the fatality of restrained sexiness with "Love Killa," the title track for the FATAL LOVE album released in November last year.
Relatively, lots of achievements showered MONSTA X, setting various records with its highest initial sales with FATAL LOVE. Particularly, MONSTA X received "Stage of the Year" at the 2020 Asia Artist Awards— the first Daesang (grand prize) six years after its debut. MONSTA X's global popularity also gets proven with "Best Performance" at the 2020 Melon Music Awards. They also received "Best Stage" at the 2020 MAMA and "Artist of the Year" at 2020 The Fact Music Awards. Additionally, the dazzling group won "Best Group" at the 35th Golden Disc Awards, "Top 10 Artists" and "Song of the Year" at the 2020 APAN Music Awards.
In addition, MONSTA X members also achieved significant results through their solo activities. MONSTA X's main rapper Joohoney ranked No. 1 in 16 countries on iTunes' top K-pop Album Charts with his fourth mixtape "PSYCHE" in October 2020. Accordingly, the sweet bee ranked in the top 10 in 30 countries.
Showing off his capabilities as a solo artist, the seasoned youngest I.M swept global music charts with his solo digital album DUALITY. The album saw itself at No. 1 on iTunes Worldwide Albums Chart and many more.
Meanwhile, MONSTA X continues to be a global trend with the group's Japanese single "WANTED," which amazingly ranked on top of the Oricon and Tower Records charts. Furthermore, huge attention is now focused on what other astounding records MONSTA X will set with its new album.
---
PR and Image Source: Starship Entertainment